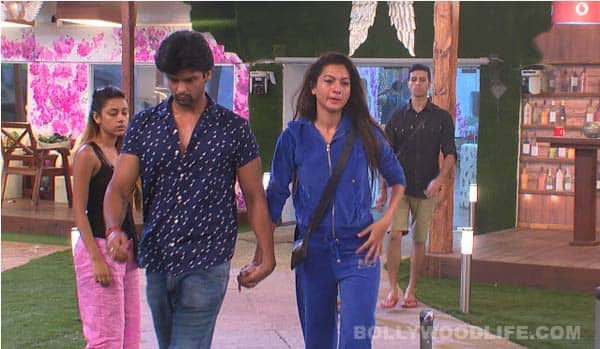 Gauahar is being convinced to enter the house again
We all witnessed the biggest tamashaa in the history of Bigg Boss yesterday when after roughing up VJ Andy, Kushal Tandon was dismissed from the house. But the drama didn't end there. Kushal's lady love Gauahar Khan also opted to walk out with him. These two who had entered the madcap house seperately, made an exit together with Kushal carrying his lady Gauahar in his arms. Awww… It reminded us of a typical love story.
This was the drama that we saw on our television screens. But, here is what happened behind the scenes. While Kushal has been shown the door, Gauahar's fate was unsure till late evening on Tuesday. Apparently, she was asked to get back to the Bigg Boss 7 house, but she refused and said she will only enter the house if Kushal is brought back. Gauahar was booked into a hotel near Bigg Boss house in Lonavala and that's where she remained till late evening and was kept from the media.
Our sources have also informed that Gauahar's mother rushed to the hotel to convince her daughter to go back in the glass walled ghar of Bigg Boss. Wait, there is more… Gauahar's sister Nigaar Khan is also expected to join her in the house. Talk about twists and drama!
Now whether or not Gauahar will leave her love Kushal behind and enter the Bigg Boss house yet again is to be seen. All, we can do is just wait and watch.