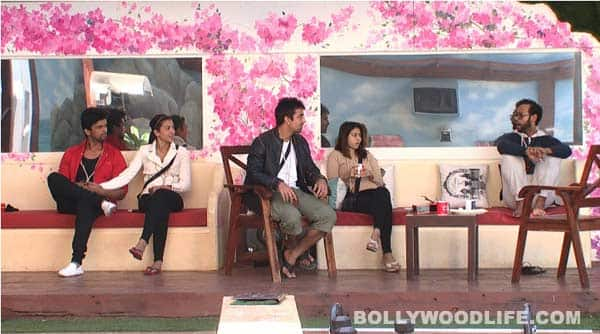 This week's luxury budget task will trap the lives of the housemates in a bottle…literally!
This week, like every other week, the Bigg Boss 7 housemates are required to carry out a luxury budget task but little do they know that this time around, the task is going to be mightier than any other.
In tonight's episode of Bigg Boss 7, the alarm will ring at the crack of the dawn to wake sleeping housemates. The housemates, are then asked to gather in the living area where Bigg Boss will make an announcement, that in order to reach the finale week, the housemates will have to prove their potential and capability on an individual level and without the support of any teammate through the task Zindagi Na Milegi Dobara.
As a part of this task, the housemates will be asked to choose one badge with a contestant's name written on it, and will have to hang that badge around their neck during the task. In the garden, six stands are placed with each containing ten bottles labeled with a contestant's name. The housemates are required to strictly abide to the rules of the house and be alert the whole time. They are not allowed to sleep or rest while the task is on.
Upon failing to carry out the task, the person who commits the mistake will not bear the brunt, but rather the one whose name written on the badge will be held responsible for it. For each mistake, one bottle from the stand will be opened and emptied, thereby costing them a point. At the end of the task, whoever is left with maximum number of bottles, will get immunity from next week's nominations. Sangram who is already immune from the nominations is asked to regulate the task and take note of all the mistakes that the housemates make. Armaan Kohli will choose the badge that has Kushal's name on it. However, he will regret it later since Kushal – as you know – doesn't quite care about the rules of Bigg Boss.
But now with the reports of Armaan's arrest coming in, we wonder whether the task is still on. While we feel sorry for Armaan, all this seems quite funny as Armaan anyway faces the brunt, and that too a legal one.