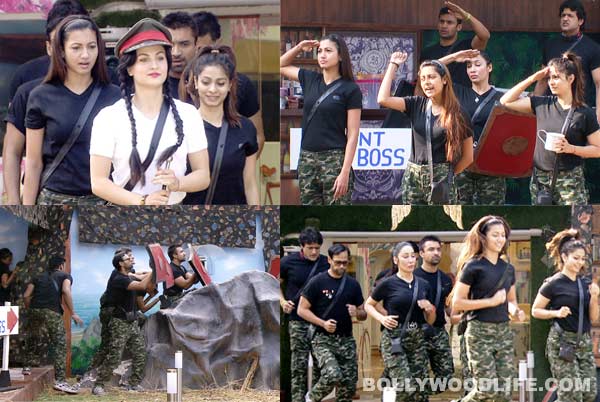 The glass walled house has transformed into a battleground
We have seen these Bigg Boss housemates quarrel with each other at regular instances. But this time around, thankfully they will not be seen fighting with each other. Yes, you heard us right. Tanishaa Mukherji and Gauahar Khan, who are considered to be the biggest foes, will join hands and fight with outside enemies as a part of the luxury budget task.
In today's episode of Bigg Boss 7, the housemates will get a letter from Bigg Boss regarding a military task where they will have to get dressed as military officials and battle it out with their enemies. The garden area will be transformed into a battleground and the housemates will have to lead the life like that of an army personnel. They have to cook, eat, sleep in the garden area and will have access only to the washroom inside.
As commandos, their objective will be to protect Mount Bigg Boss from attack of the enemies and continuously stay on a treadmill placed in the vicinity. At every given point of time, one commando will have to be on the treadmill while the other fellow commandos have to protect them with the help of shields.
Being the captain of the house, Elli Avram will be given the responsibility to be the General of the Army and will be asked to streamline the task under her surveillance. The housemates will have to carry out a minimum of three drills during the day and follow the orders of the General. During the day, they have to tackle the three attacks of the enemies and protect their General from being hurt.
They will emerge victorious from the first battle. However, during the second attack the enemy targets the commandos by throwing water balloons at them leaving Ajaz and Kamya injured. Ajaz and Kamya will fail to follow the rules and will be punished for their behaviour. The housemates will then be asked to continue the task through the night and to be prepared for war at anytime.
Will the housemates be able to survive through the task and emerge victorious? All we can do is just wait and watch…