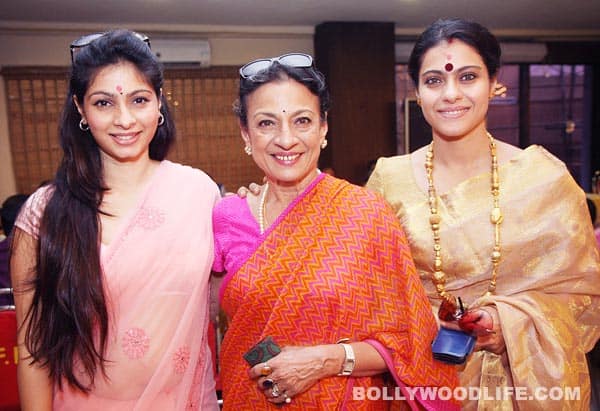 We hear that since sister Kajol is busy at home, Tanishaa's mother Tanuja might go to receive her daughter when she exits the Bigg Boss 7 house
Bigg Boss 7 is getting over on December 28 and Tanishaa Mukherji, Gauahar Khan, Ajaz Khan and Sangram Singh are battling it out with each other to win the coveted title. These four contestants – except Ajaz Khan, who entered the Bigg Boss house as a wild card entry – have been in the house for more than 100 days now. While someone from each housemate's family will be present at the Grand Finale to receive them, we doubt if someone from Tanishaa's family will be there, especially considering all the tamashaa that has taken place. It was reported that Tanishaa's mother Tanuja and elder sister Kajol were miffed with Tanishaa because of her intimacy with fellow contestant Armaan Kohli on the show. However, Kajol denied all the rumours of this, saying that her sister would never do anything to disgrace the family name.
So will big sis be there to greet Tanishaa at the Bigg Boss 7 Grand Finale when she finally walks out of the house? Well, we don't know about Kajol, but from what we have heard, mum Tanuja might go to receive her beloved daughter. Yes, you got that right! Reportedly, the channel has requested a family member to be there when she exits the glass walled house on the D-day. And according to the grapevine, despite her ill health Tanuja might be at the finale. "Kajol cannot go as it's the holiday season and she is required to be with her family. It looks like Tanujaji will have to bring Tanishaa back", said our friend.
We have also heard that after Tanishaa is out of the house, she along with her family will be heading to Ajay Devgn's (Tanishaa's brother-in-law) farm house to bring in the new year. Looks like the family has completely forgiven Tanishaa, hai na? As they say, all's well that ends well.