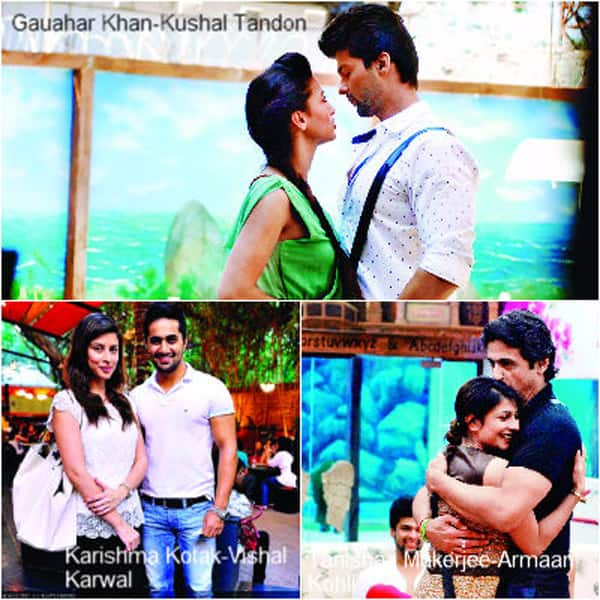 The couples who fell in love during their stay in the house of horrors might marry this year
Bigg Boss, the mother of all reality shows, has always been a hot bed of controversies. If slanging matches have been the hallmark of the show, romance too has been an integral part. Every season, Cupid has unerringly struck the good looking girls and guys making for entertaining viewing. But most love stories either ended before the show was over or soon after. Only a few like Pooja Bedi and Akashdeep Saigal have continued the relationship away from the arclights though they haven't legalised it, yet. Now, three couples who met and fell in love in the Bigg Boss house are set to tie the knot this year. While Armaan Kohli and Tanishaa Mukerjee will get married in December, Kushal Tandon and Gauahar Khan will take their vows in November. Vishal Karwal and Karishma Kotak too are said to be ready to formalise their relationship by the end of the year.
Tanishaa Mukerjee – Armaan Kohli
Though they knew each other before they entered Bigg Boss 7, sparks flew between the two inside the house. It was simmering for a while before the viewers caught on to their romance. Reason: All the screen time was being taken by Kushal Tandon and Gauahar Khan's sizzling love story. To add to it, Armaan with his boorish attitude and abusive language became an anethama to the inmates except Tanishaa who much to the viewers and host Salman Khan's surprise stuck with him. A firebrand otherwise, she was coy with Armaan and constantly at the receiving end of his volatile temper. It took a few close whispers and cosy moments between the two for viewers to realise the couple was in love! Salman even cautioned Tanishaa saying 'log dekh rahe hain' apparently at the behest of Tanishaa's family, which was unhappy with their growing closeness on national television. A controversial footage of the two sharing the bed even went viral! Undaunted, Tanishaa, towards the end of the show, openly expressed her feelings for Armaan and shared intimate kisses. Many wondered if the couple will take their relationship to the next level post the show considering the opposition from Tanishaa's family. However, that was put to rest when Tanishaa celebrated the New Year with Armaan, holidayed in Goa together and flew to Dubai to be with her beau during the Celebrity Cricket League. Now the latest is that the 34-year-old Tanishaa and 44-year-old Armaan with the blessings of their parents will tie the knot in December. About time, we say.
Gauahar Khan – Kushal Tandon
Nobody gave this relationship a chance. At best their romance was considered a ploy to gain TRPs (Television Rating Points). Yes, it had all the ingredients of a classic love story. Boy meets girl, gets smitten, woos and wins her – all in a matter of days. From communicating through sign language which only the two could decipher, to spending all their waking hours together, shutting themselves in the bathroom for 15 minutes, the pair played out their love story to the gallery. When Kushal was ousted from the house for being physically abusive to Andy, Gauahar followed him out. It was only when she realised that she was contractually bound to the show and would have to cough up Rs50 lakh for walking out mid-way that she re-entered the house. During a mock contest in the Bigg Boss house, when Kushal was asked to declare his love for Gauahar, he floored her completely saying he wanted to grow old with her! They were recently seen on another reality show Khatron Ke Khiladi 5. And now it looks like the lovebirds are cementing the bond sooner than later, November if sources are to be believed. When asked, Kushal said, "Only if we had time from our respective work schedules. We are very young to be married." We'll know in a few months!
Karishma Kotak-Vishal Karwal
Unlike Armaan-Tanishaa and Kushal-Gauahar, Vishal and Karishma's love story was subtle. No loud declarations, drama or fights. If anything, these youngsters drawn to each other were more of friends than lovers on screen. The duo were just acquaintances when they were part of Bigg Boss 6. In fact, the producers had cleverly got Karishma and her ex-boyfriend Niketan Madhok in the house hoping to fan the embers. But that did not happen as Karishma insisted they had moved on. It was only when Vishal came in as a wildcard entrant that there was a spike. The handsome actor and Karishma hit it off well. Though Sana Khan was seen flirting with Vishal, and the two seemed an item, it was with Karishma that he had intimate conversations and long walks. This did not go down well with Niketan but unlike Ajaz Khan who bothered Gauahar and Kushal with his protestations, Niketan conveyed his ire through his demeanor. He and Vishal shared cold vibes but saw to it that things never came to a boil. However, the burgeoning romance between Vishal and Karishma was cut short when Karishma's father passed away and she had to leave the show mid-way. Though she returned a couple of weeks later, the mood was solemn. It was only after the pair got out of the house that they became close and are going strong. The attractive couple has been spotted at many events walking in hand-in-hand. Yet, surprisingly, both shy away from discussing their relationship in the open. We have heard that the pair is readying to walk the aisle this year, but true-to-their-style both denied it!