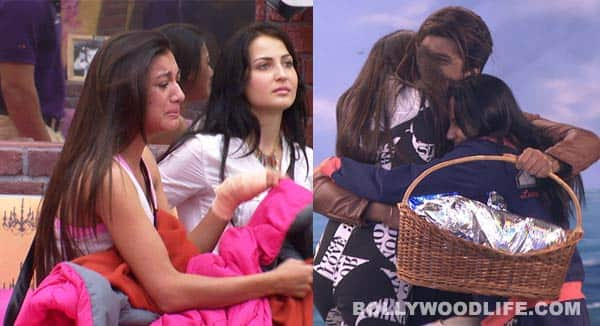 The hot-headed inmate, who was evicted from the glass-walled house for his violent behaviour is back in the house
For the Bigg Boss 7 inmates, it was just another day in the Bigg Boss house till the song Badtameez Dil started playing inside the house. Everyone jumped and somehow they knew Kushal Tandon is reentering. It was later revealed that it was Kushal's entry song and that's how they jumped and ran towards the entrance. Anyways, Gauahar Khan and Kamya Punjabi run like crazy. While Kamya can't seem to control her happiness, Gauahar looks a bit anxious (maybe wondering if her equation with Kushal will be the same considering he's seen the outside world now). And then enters the previously short-tempered, now grinning Kushal Tandon!
Somehow, everyone looks very happy except Tanishaa Mukherji and VJ Andy. But, Kushal, who seems to have turned over a new leaf (let's see how long it lasts) gives a warm hug to everyone. Obviously, Gauahar clings onto him and gets a 'special' bear hug. Then, Kushal hands over gifts to everyone. He has actually put in some thoughts into the gifts and has chosen gifts depending on each person's taste. Almost everyone gets a gift except his 'special friend' Gauahar. And then he says to her that I have come back for you.
Hmmm… Well, while we understand that, he could've got something for the trapped Gauahar too, right? While he was handing over the gifts, Gauahar is seen standing in a corner. Was she feeling a bit sidelined seeing the changed Kushal? And with him returning in the house, is she feeling more secure or insecure? She's sure to lose some sympathy votes from the audiences, hai na?
So, do you think Kushal Tandon returning in the Bigg Boss house is the biggest gift that Gauahar could get? Or, is the attention-seeking beauty feeling ignored by her 'special friend' Kushals' re-entry? Tell us, what do you think, BollywoodLifers?