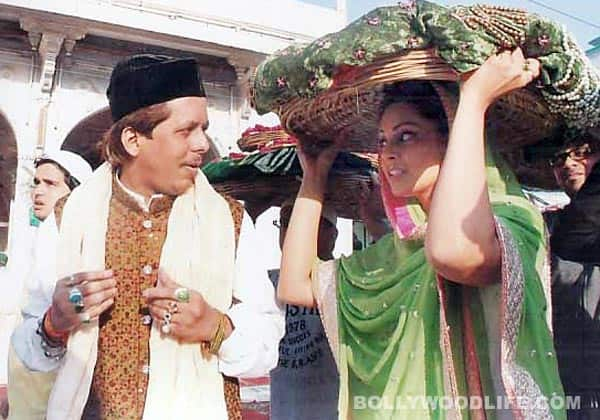 skip advertisement
But will the aatmas of this spooky flick be blessed at the shrine of Khwaja Moinuddin Chisti?
The Aatma team is making appearances on the sets of various TV shows and at events to promote their movie that releases on March 22. And this time around we spotted Bipasha Basu carrying a cane basket (tokri) filled with flowers, incense sticks and holy threads to offer her prayers in the shrine of Khwaja Moinuddin Chisti at the Ajmer Sharif dargah. Accompanying her was director Suparn Varma. Bips looked pretty draped in a green dupatta with a pink border. This, in spite of her being a tad flushed due to the heat…we presume.
Anyway, coming back to the buzz of their visit – the news doesn't surprise us at all. 'Coz it's almost become a raging trend with B-towners – be it Amitabh Bachchan, Shahrukh Khan, Farah Khan, Deepika Padukone, Ajay Devgn, Katrina Kaif, Anushka Sharma or Aishwarya Rai Bachchan – to pay their respects at the shrine before the release of a film.
Now will Bipasha and Nawazuddin Siddique's movie Aatma be blessed with super-duper box office success? Is the dear departed saint listening? What do you think?
Photos: Yogen Shah