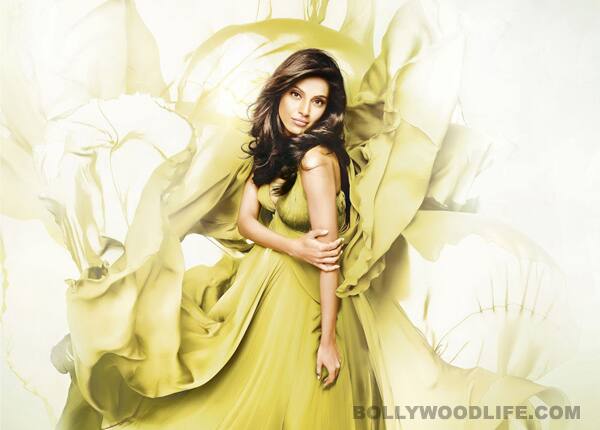 The Bong babe is back with the Bhatt camp, the people who gave her her first commercially successful solo film with Raaz. More than a decade later, the leading lady is back in the latest edition of the thriller: Raaz 3. Bipasha Basu shares her anxieties and speaks of the aspirations she has now set for herself
The mood at the plush Vishesh Films' office is energetic. As I enter the Bhatts' workplace, I hear loud noises coming from the conference room. Filmmaker Mahesh Bhatt, his producer brother Mukesh Bhatt, Raaz 3 director Vikram Bhatt and the film's leading lady Bipasha Basu are discussing the buzz around their next release over a hearty meal.
After a short wait, the Bong babe is summoned for a tête-à-tête with yours truly. Dressed in a pink ganji and black tights, the Raaz 3 heroine makes a pretty picture. While the exhaustion from endless promotional gigs is palpable on her face, it's overshadowed by a certain calm and confidence. Strange, na! Shouldn't she be jittery, as the fate of the film she has toiled extra hard for will be known in less than 24 hours?
"I am nervous, but happy! You have come at a time when we are hearing good buzz around Raaz 3. The advances (ticket bookings) are good. One review has come out and it says good things for our film, for Vikram and for me. Bhatt (Mahesh) sahab's very happy, and we are all going crazy," says a peaceful-looking Bips.
However, her journey during the Raaz 3 shoot wasn't so cool and composed. "This is one film where I was not comfortable for a second playing Shanaya," says the sexy hottie. "It was an exhausting process. I told Vikram that I wanted to finish the film fast. It was a very lonely film, 'coz I wasn't meeting anyone during the shooting. I was stationed at Madh Island, would go to the gym for an hour and spend sleepless nights. It's one of the roles I have given everything to. And it's just come at the right time in my life, because I was looking for something like this. I was hungry to do good work."
Moreover, since the film has been made in 3D, the technical process hurt. Bips says, "Vikram had told me that he is going to be a pain in the ass. I like to shoot all my scenes – especially when there is an emotional graph – in one flow. But he said, 'I am going to break your emotional thoughts, because there is this motion blur, that happens so you can't keep on shooting continuously'. You have to take different angles. In that way it is tougher and it takes longer to shoot a 3D film."
The Bhatts, who gave the Bong babe her first hit film (Jism), initially offered her a different script. Bips recalls, "My plea to Bhatt sahab was that I want a film from Vishesh Films that is going to be remembered by everyone. He totally understood. He thinks I am very brave to do a role that can form a very strong image of a person. But I have always been quirky in my choices. People told me not to do Jism, but I did it. My first film (Ajnabee) was a negative film. So I have never really followed the norm anyways; and every time I have done something in which I am not in my comfortable space, people have loved me."
In Raaz 3 the model-turned-actor recreates the highs and lows of a Hindi film female actor, but the twist in the tale is that she goes to unexpected lengths to regain her fading glory. While the plot dares to bring out the ugly side of the glamorous world, it's a story that has become a current favourite with filmmakers. Remember, Vidya Balan's The Dirty Picture and Kareena Kapoor's yet to release Heroine have similar storylines!
So comparisons are inevitable, but Bips isn't perturbed. Not only do gossipmongers' insist that the sexy siren got a little agitated after watching promos of her competitor – with whom she shares a not too happy past – Kareena's Heroine, but also sat through trailer cuts and film edits. Bips is visibly irritated by the allegation, but calmly says, "First of all, I am not that kind of person. I won't get into the creative aspect of filmmaking. I will teach Vikram how to edit? I was his baby in his second film!"
"Also, I have always been the kind of person who is concerned with what I am doing. I have never had any competition with anyone, ever. It's too late in the day to start. Yes, right now I am very focused and I am not going nowhere, so everything I do will have that much more passion, I promise you that. Every single role that I do, I will do with honesty and that you'll see on screen."
So what expectations does she have from the film she considers the most challenging role she has done so far? "I just want everyone to know that Bipasha Basu is a very good actress!" says Bips promptly. "A lot of people ask me what my journey from Raaz 1 to Raaz 3 has been. At that point of time I was an unsure girl who didn't know what I wanted to do in life, but still God was kind and people around me were fabulous to give me a direction that this is the kind of film I should be a part of. But today I am very confident. I love making movies and this is where I belong. I want to make my space and stay here for some time."
We'll know if Bips manages to fulfill her wish today, when Raaz 3 releases. We wish her all the best!