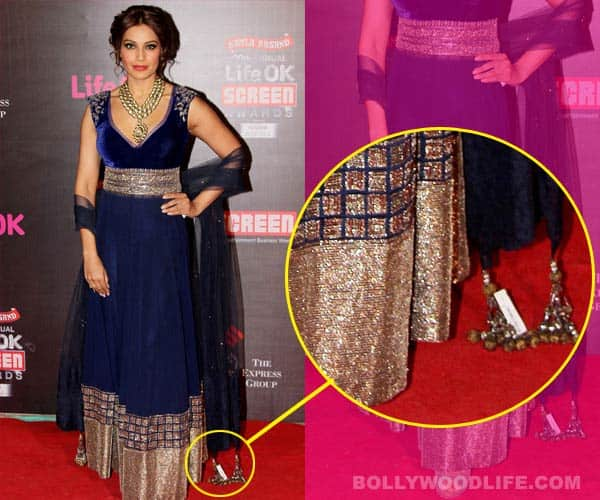 The dusky bombshell forgot to do one important thing before stepping out and flaunting her style sense. Read on to know what slipped off Bip's mind when she walked the red carpet
Bipasha Basu knows how to carry herself. And don't be surprised if you see Bips carrying the price tag along with her couture even while she is in it! Yes, we spotted the Aatma actor prancing around at the red carpet event for a recently held awards function. While the babe looked her gorgeous self in blue Manish Malhotra creation, we were shocked to see the price tag hanging loosely off the outfit. It  screamed Rs 23,000 pretty loudly and Bips just could not notice the worth of her outfit that was being captured by some really observant camera lenses.
ever mind Bips in the times when our lady brigade forgets to wear the bare essentials before turning up at media events (unintentionally or otherwise) your inability to forget to remove the price tag only gave us a relief. After all ,add ons are not as shocking as the horrifying deduction when it comes to styling oneself. You know what are talking about, right Bips?