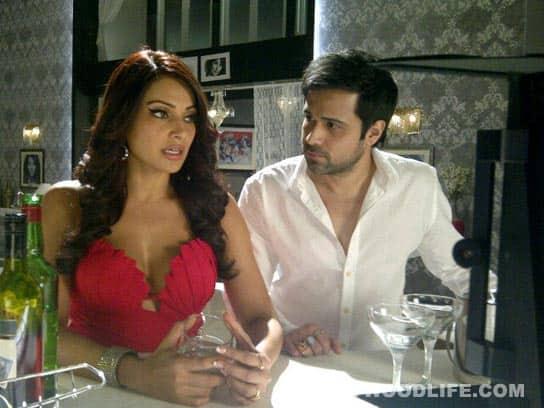 The babe claims that she is petrified of lip-locks, and looks like the serial kisser made those fears disappear. But is that a stepping stone to her success?
We've all heard Bipasha Basu ranting about how she is consciously focusing on her career (only) now. But something in us says that there's more to it. Why, first the Bong beauty said that she is a big phattu and then went on to sign not one but two horror flicks – Raaz 3 and Aatma.
Then she said that she isn't comfortable locking lips in front of the camera and lo! now we have Bips' longest smooch to look forward to. And we are sure the kiss happy Emraan has no complains about that!
But we wonder what's up with this babe? Is the absence of a relationship driving you towards facing all your fears at once, Bips? We wonder. Anyway, even as Bipasha is busy ticking phobias off her list, she has a clear goal in mind. Why, we are told that this now-Dabangg babe is eyeing for a movie with apna Salman Khan and is even sending him feelers through interviews by saying, "I would love to do a Salman Khan film!" Ahem ahem. Are you by any chance hinting at No Entry Mein Entry, Bips? Perhaps.
And with so much on her mind we were not surprised when the babe tweeted, "One of those days when u wake up a lil vulnerable and feeling a lot!Happens to all I guess:) " Awwww!
Slow down, Bips. Maybe you are pushing yourself too hard to get your career back on track. Guess the lady too excited that she has finally discovered the correct formula for success – thrillers, smooches and a Salman Khan movie! Tell us, BollywoodLifers, what do you think?