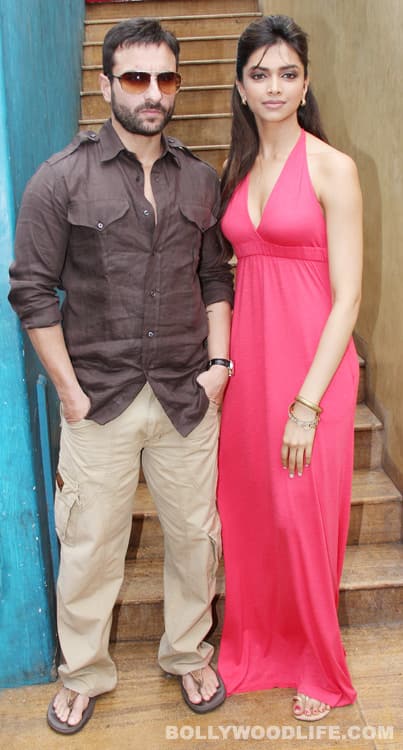 skip advertisement
But thank God she made no fuss about it like Sonam Kapoor who heaved an echoing sigh of relief after she was done shooting with the shorter-than-thou hero Shahid Kapoor in Mausam
A perfect lead pair on the bada parda should comprise a hero, and a heroine who is few inches shorter than her onscreen Mr Right. But sometimes the height rule goes for a toss when the casting director fails to bring together a perfectly sized couple.
Years ago, when Zeenat Amaan had to share a frame with Rishi Kapoor (*giggles*), the makers had to prop Chintuji's seat with a couple of extra cushions to prevent him from looking like a dwarf in front of the tall lady. Years after that walked in Aamir Khan – our short-but-cute superstar – with his penchant for padded soles romancing a number of heroines who were a tad taller than him.
But even now when the world has progressed, our minds still refuse to accept the image of a tall heroine and a short hero. And to add to a casting director's misery, there has been a steady inflow of tall and leggy beauties who are paired with…ummm…not-so-tall heroes.
So everyone including Nawazuddin Siddiqui raised an eyebrow when Bipasha Basu walked into the sets of Aatma to play the lanky actor's love interest. "She would remove her shoes during the shoot," Nawaz said in an interview. Had to, no?
But what if there was a way by which the heroine could keep her heels and still stick to the height rule? Padded soles, a rickety stool, trenches in mud et al have become passe. So what else could the gen-next use? A concentrated diet of Complan, perhaps? Although the height-inducing drink's effect won't be instant. And who can afford to waste precious time in today's era?
But fikar not 'coz we have other options. A headgear for the hero like a turban, a magician's hat, happy birthday topis (the conical ones) or an Afro hairstyle like that of Jaden Smith of the Karate Kid fame could deliver those desperately needed inches. Then again, it's all subject to the script. Right?
Now if all fails, there's always those sly special effects that could help the actor get the desired height with bare minimum hassles. The experts can elongate the hero and shorten the heroine without many viewers noticing. Hehehe…how sneaky!
So there, guess the casting director should fret no more about the height. And now, satisfied with intelligent solutions dished out, we sit back and take a look at the 'couples' to whom we dedicate this piece. Take a look, and enjoy!