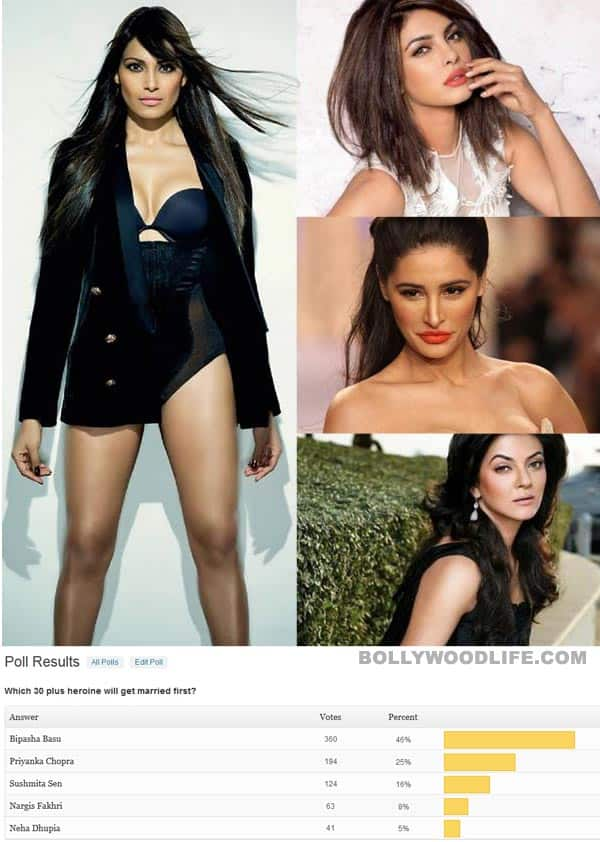 The dusky bombshell defeats the other 30 plus hotties in the rat-race of getting married first
In India customs, 30 is considered to be the upper limit for women to get hitched, but new-age modern-day women have changed all such rules and Bollywood heroines too are not ready to stay back. So, we decided to check as to which B-Town hottie would the fans want to see married first. We had many options in front of us, but we decided to pick to the topmost 30 plus hotties and pit them against each other. The result is something which we couldn't ever imagine. Bipasha Basu has beaten Priyanka Chopra, Nargis Fakhri, Sushmita Sen, Neha Dhupia and others in the race to be married first.
According to fans, the Bong bombshell will beat all the other 30 plus hotties to get married first and settle down in life. The competition was tough. Bipasha received 46 percent of the votes and came on top while Priyanka got 25 percent of the votes and ranked second. Sushmita with 16 percent votes ranked third, while Nargis and Neha got 8 percent and 5 percent votes respectively to finish at the bottom of the table.
The Jism actor had dated Dino Morea in the beginning of her career, but very soon moved on to date John Abraham. The two dated for almostnine years and then broke up in 2011. Whatever the reason may have been, neither of them seemed heartbroken. While John moved ahead and got hitched to Priya Runchal in a hush hush ceremony, Bipasha decided to stay single and not talk much about her romantic life. It was only recently that she came out in the open and declared that she is dating Harman Baweja. It was even said that the two were going to get hitched post Harman's movie Dishkiyaaoon, but that didn't happen.
Now we all will have to wait and watch as to whether the fan's predictions will come true in real life as well or not. We hope Bips wins the race, but we also cannot write off the other heroines from the race. Hai na peeps?