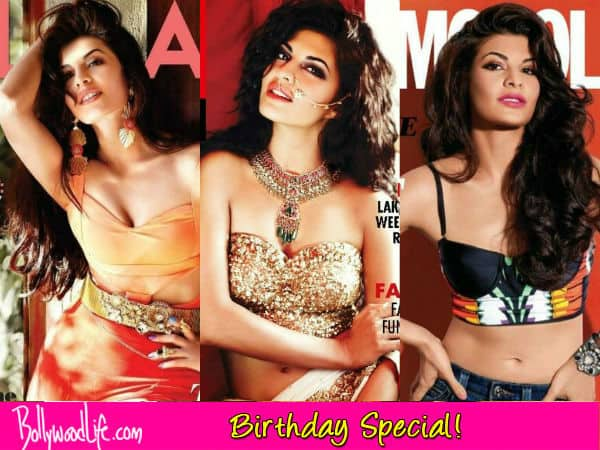 skip advertisement
Here are 5 moments when Jacky sizzled on a mag cover
The actor who sprung to fame with her latest outing Kick opposite Salman Khan has become quite a favourite not just with the audience but also with some of the leading women's and fashion magazines of the country. Her escalating popularity has made her one of the most frequent faces on magazine covers this year. On her birthday we pick our 5 favourite looks from her recent cover-photo appearances:
Jacqueline on the cover of Harper's Bazaar Bride
She wore a Manish Arora bridal ensemble on the cover of this one and boy, does she look incredible! With her messy hair, loads of contemporary yet traditional bridal jewellery and the eye of a tiger, Jacqueline proved that no one could have done this cover shoot better than her. She oozes panache on the cover.
Jacqueline on the cover of Hi Blitz!
Moving over Sonam Kapoor's style of draping the six yards, we love how Jacky is draping her sari on the cover of this glossy! And that nath! Uff! We definitely like it better than Sonam's nath from the red carpet at Cannes Film Festival. Jacqueline sure knows how to tantalize and titillate with that sensuous look in her eyes!
Jacqueline on the cover of Verve
Sugar, spice and all things nice; Jacky looks rather naughty and nice on the cover of this candy-floss theme issue of the magazine cover. Peeping from behind that lollipop, she sure had us drooling! Why we love this cover so much is because Jacky, who is otherwise always sexy and fashionable, is revealing a fun and whacky side of her personality.
Jacqueline on the cover of Cosmopolitan
If we could have had it our way we would never want to see Jacky in anything but those fantastic bustier tops and cool denims. You ask why? Because she rocks them so damn well! We mean, look at that toned torso, how can one look at that make and not wanna hit the gym right away? Apart from that we love Jacky's voluminous hair-do and the chunky wrist cuffs she is sporting!
Jacqueline on the cover of Filmfare
This issue of the magazine describe Fernandez as "the bombshell giving Bollywood sleepless nights" and well, that description is true to the T. Looking at the way Jacky is setting the temperatures soar sky-high with this thigh-high slit outfit on the magazine, we are certain that several men are crying themselves to sleep over her!
We wish this diva the happiest birthday and hope to see her on many more glossy covers at her stylish and sensuous best!