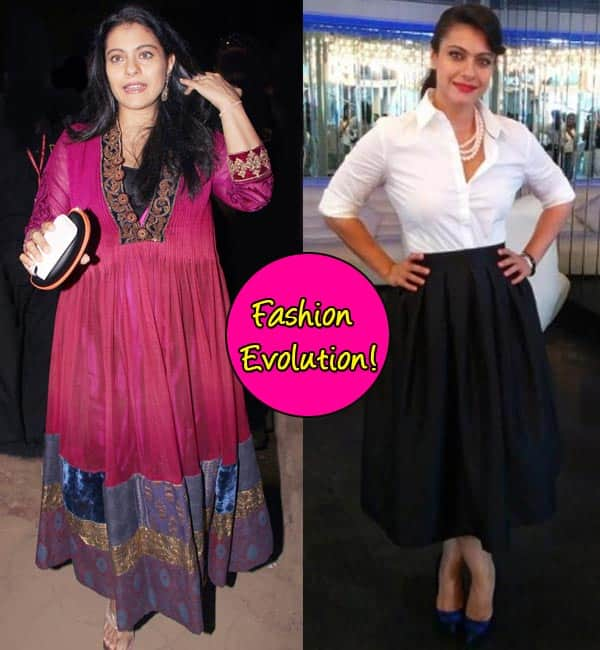 skip advertisement
Kajol's talent in terms of acting is unbounded but off late the actor has kept away from cinema to look after her family. She is now gearing up for her comeback but for her fans Kajol was never gone. The vivacious Bong beauty always made her presence felt at numerous award functions, social dos, charitable soirees and more. And whenever she would step out, her style sense and fashion statements would be under the scanner.
Kajol turns 40 today and we look at how the actor's style has evolved over the years.
From the way she was
The 90s witnesses an unbothered Kajol who hardly cared about how she was being looked at by the fashion pundits. From wearing baggy shirts and denims, to wearing even baggier outfits at award shows, she never gave a damn. Despite dressing comfortably, her outfits grabbed eyeballs for all the wrong reasons.
To the way she is
Of late the actor has consciously upped her game. She revealed the same on Koffee With Karan when she said that her conscious decision to revamp herself happened because fashion is given quite a bit of importance now and that she needed to find her own taste and sense in fashion because she was tired of not having an opinion in that area.
Apparently Karan Johar and Manish Malhotra had a big hand in redefining Kajol's sense of style.
The new found fashionista
And so Kajol became a fashionista, the yummy mommy who likes to make heads turn with her charming personality. Though, she may rate herself as a 5 on 10 on Karan Johar's couch, but we think that Kajol deserves more credit than that.
The style mantra
The key to her successful dressing sense is her age appropriate style. She always dresses according to her body and comfort is the utmost priority. Kajol never dresses merely to please she simply wears what looks good on her.
Kajol also likes to wear bright colors of lipstick to social events and we love it because different shades of red really suit her.
She may not be regarded as a conventional style-icon but women her age can certainly take a lesson or two from her dressing sense.