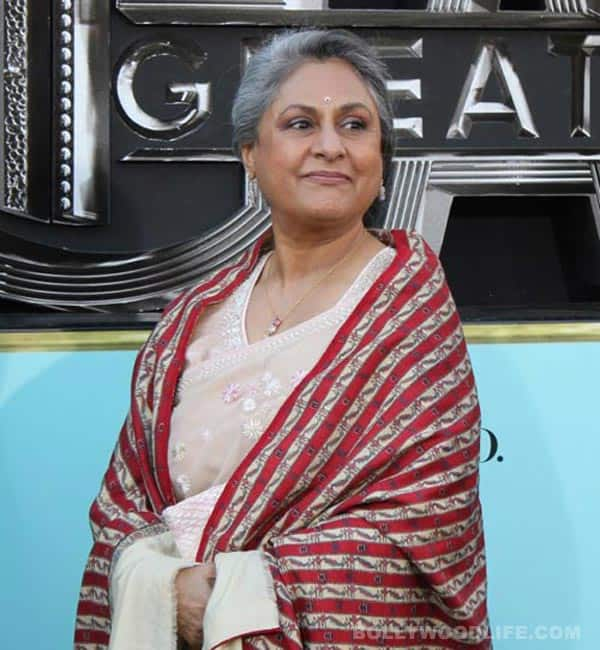 Mrs Amitabh Bachchan turns 66 today!
Jaya Bachchan erstwhile known as Jaya Bhaduri is considered as one of the topmost heroines in Bollywood. She has given some immensely superb movies and at the peak of her career had left it all to marry superstar husband Amitabh Bachchan and raise kids, Abhishek Bachchan and Shweta Bachchan Nanda. Her extended family includes, daughter-in-law Aishwarya Rai Bachchan, and son-in-law Nikhil Nanda. On Jaya's birthday let us have a glance at some of her most famous films:
Guddi: The 1971 Hindi comedy-drama was directed by Hrishikesh Mukherjee and written by Gulzar. Along with Jaya the film also starred Dharmendra, Jaya Bachchan and Utpal Dutt. It is considered as Jaya Bachchan's career-making film in which she plays a schoolgirl obsessed with the actor Dharmendra, who plays himself. She earned a Filmfare nomination as Best Actor (Female), the only nomination for the film. Utpal Dutt also has a starring role. Many popular Bollywood actors like Amitabh Bachchan, Om Prakash and Pran gave guest appearances as themselves. The film became a "big city hit" and did "above average" business everywhere else. It was later remade in Tamil as Cinema Paithiyam (1975) starring Jayachitra and Kamal Haasan.
Uphaar: The 1971 Hindi film, produced by Tarachand Barjatya for Rajshri Productions also had Swarup Dutt and Kamini Kaushal. The music was by Laxmikant Pyarelal. This film is based on the short story named Samapti (The End) by Rabindranath Tagore. The film was selected as the Indian entry for the Best Foreign Language Film at the 45th Academy Awards, but was not accepted as a nominee. Jaya was nominated for Filmfare best actor (Female) for this role of hers.
Koshish: The 1972 Hindi film, directed by Gulzar, is considered a landmark movie in the history of Indian cinema. It stars Sanjeev Kumar and Jaya Bachchan. The movie depicts a deaf and mute couple and their conflicts, pain and struggle to carve out a niche for themselves in a desensitized society. The film was remade in Tamil as Uyarndhavargal in 1977 with Kamal Haasan and Sujatha. Jaya was nominated for Filmfare best actor (Female) for this role.
Abhimaan: The 1973 Hindi musical drama film paired Jaya opposite Amitabh Bachchan. The film also had Asrani and Bindu. It was directed by Hrishikesh Mukherjee. The film is perhaps best remembered for its songs, composed and arranged by the late SD Burman, written by Majrooh Sultanpuri, and sung by playback singers Mohammed Rafi, Lata Mangeshkar, and Kishore Kumar. When it was released, audiences found similarities between real-life couple Amitabh and Jaya and the couple they portrayed on-screen as Jaya's career was stronger than Amitabh's at the time. She won the Filmfare Best Actor (Female) Award for this film. According to author Raju Bharatan, Hrishikesh Mukherjee based the film's story on the life of singer Kishore Kumar and his first wife, Ruma Ghosh. People also say that the film was based on the real life story of Guru and Geeta Dutt.
Kora Kagaz: This 1974 Hindi drama film produced by Sanath Kothari and directed by Anil Ganguly, paired Jaya opposite Vijay Anand. The film also starred AK Hangal, Achala Sachdev and Deven Verma. The films music was given by Kalyanji Anandji. The film is based on a story Saat Paake Bandha by Ashutosh Mukhopadhyay and is a remake of a Bengali film by the same name Saat Pake Bandha(1963) starring Suchitra Sen. Jaya won the Filmfare Best Actor (Female) for this role.
Mili: This 1975 Hindi romantic drama film directed by Hrishikesh Mukherjee starred Amitabh Bachchan and Ashok Kumar as well. Jaya Bachchan received a Filmfare nomination as Best Actor (Female), the only nomination for the film. The film was later remade in Telugu in 1976 as Jyothi starring Jayasudha in the title role.
Nauker: This 1979 Hindi drama, directed by Ismail Memon, is perhaps best remembered for Jaya Bhaduri's performance as the servant Geeta. This role earned her third Filmfare Best Actor (Female) award.
Here's wishing her a very happy birthday!