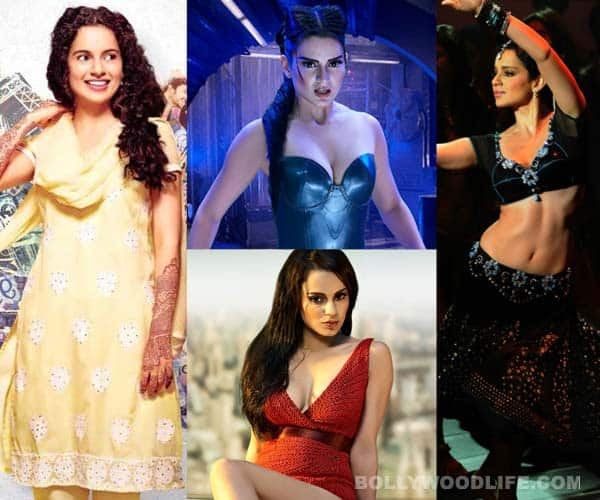 The Queen actor is all set to blow out 27 candles on her starry cake today. And we could not find a better occasion than the babe's birthday to celebrate the quintessential Kangy magic that makes the lady stand out (tall and elegant, at that endevour, mind you). Take a look!
Born on March 23, 1987, Kangana Ranaut celebrates her 27th birthday today. Riding high on the success of her critically acclaimed movie Queen, KR is getting to live some interesting characters on celluloid. And reasons are plenty for us to guess that this dark horse-with a mop of curly hair- might just sweep all the prestigious awards off the shelves with her fabulous performance this year.
With so many promising ventures placed beautifully on her designer plate, Kangy is only going to grow big. But as she turned a year older today, we decided to celebrate the charm and chic only she can bring along. So here are our top five facets of her enigmatic personality that will reaffirm the fact that Kangana rocks-and how!
Kangana the stunner: Find all the classy adjectives from the dictionary to define her and yet you will run out of elegant epithets to describe her serene beauty. She is quirky, mysterious and yet very stylish. A lot has been said about Kangy's sartorial sense already but we believe it is her being in the way only she can continues to mesmerise us eternally. Period!
The performer: Though she has been heavily criticised for playing her droopy-eyed self and those schizophrenic, abused with alcohol roles at the drop of a hat, we believe Kangy can bring variations even in that restricted zone. From Woh Lamhe to Gangster and from Fashion to Queen, Kangana has only evolved as an actor- not exactly dramatically but slowly and yet surely.
The no-nonsense star: The very fact that she doesn't believe in the unnecessary-at times even repulsive- shoo-sha of award shows where celebrations are restricted to patting each other's back, Kangana has shown that she knows her priorities right. She doesn't believe in playing up for the galleries. She would rather focus her energy and interest on the process of film making and the kind of movies she has been doing to surprise her contemporaries.
The low key celeb: She is certainly not your regular court jester who will entrain you because entertainment is all you want. You won't see her doing mindless reality shows or indulging in doing something for the sake of moolah or attention. Her self-assurance and calm demeanor is frighteningly professional.
The sensible speaker: Now nay-sayers may claim that Kangy is not seen giggling on chat shows while sipping a cup of steamy coffee on those notorious couches for she CAN'T! But hey, how often have you caught the babe bitching about her peers and pals. She measures her words carefully-for the reasons best known to all including Kangy herself-but she makes sure that she has substance, relevance and composure to her soft words. Her controversy-free, squeaky-clean image makes her desirable too!