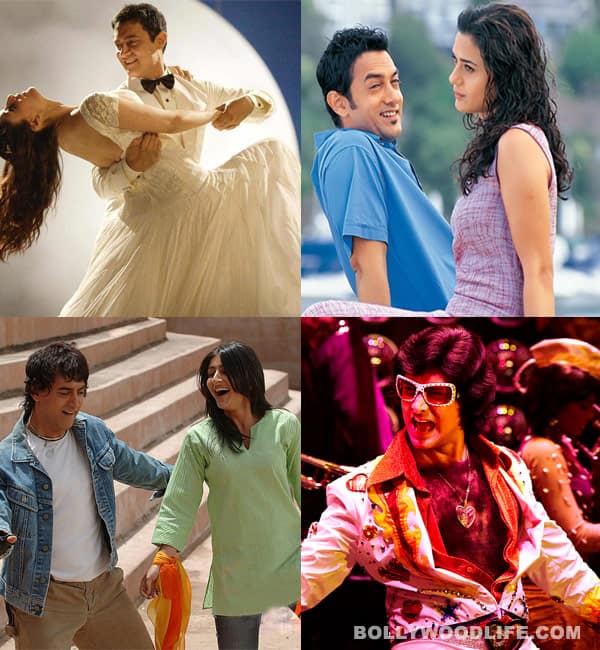 Aamir has done it all – romantic songs, item numbers and inspirational tracks. We look at what made these songs special
There was a time in Hindi cinema when a star was as big as his songs. From Rajendra Kumar and Dev Anand to Rajesh Khanna and Amitabh Bachchan – their songs helped them build their charisma and stardom. It did continue to an extent with the Khans in the 1990s, but it wasn't quite the same.
Aamir Khan wasn't made by his songs, but there are many memorable numbers of AK that bring back flashes of the various avatars and characters he has donned through the years. On his 48th birthday today, we look at the numbers that still stay in our hearts:
Papa kehte hain – Qayamat Se Qayamat Tak
This song from Aamir's debut film became synonymous with him in the years to come. A young Aamir looked super adorable in this graduation song as he strummed the guitar and danced with the girls. This was Udit Narayan doing the playback for Aamir for the first time and he became the voice of this star thereafter.
Pehla nasha – Jo Jeeta Wohi Sikandar
This song is definitely one of the loveliest tracks depicting teenage romance. A young Aamir gallivanting atop mountains amidst tea gardens and dreaming of Pooja Bedi's flying dress are images that the Indian audience will always associate with young love on the big screen.
Mehbooba – Baazi
Dressed in drags, Aamir made for an adorable diva in this number. The song is special for the way Aamir perfected the feminine dance movements. While most men end up looking scary in this avatar, Aamir looked simply beautiful!
Kya karein kya na karein – Rangeela
The audience had never seen their favourite chocolate boy Aamir singing and dancing in a tapori avatar. Rangeela was the first insight into what Aamir – the actor – was capable of. AR Rahman made a thunderous entry into Bollywood with this soundtrack, and Aamir got one of his best fun songs till date.
Chale chalo – Lagaan
A turban and dhoti-clad Aamir wooed the entire nation with this number. As Aamir led his cricket team, the audience couldn't wait to see how this bunch of amateurs would beat a trained English team. This is what cinematic history is made of!
Dil chahta hai – Dil Chahta Hai
Aamir, accompanied by Saif Ali Khan and Akshaye Khanna, made friendship look cool and fun. This song became the anthem for the young urban generation.
Aati kya khandala – Ghulam
Aamir stepped behind the mic for the first time and must say, despite being quite a raw singer, Aamir did a super job! This tapori number, written in street lingo, and the sequence where AK extinguishes a matchstick with his tongue became a rage.
Paathshaala – Rang De Basanti
Aamir represented the disillusioned and rebellious youth in this film and this song was symbolic of the theme. The images of Aamir and company jumping into the river from atop a fort and soaking in the sun afterwards still remain etched in our memory.
I hate you like I love you – Delhi Belly
This was Aamir Khan's first out and out item number. The actor donned a wig and a flashy outfit, and recreated the '80s. The quirkiness, the humour and Aamir's spirit made this a fun number.
Zoobi doobi – 3 Idiots
A cute romantic song, Aamir grooved with Kareena Kapoor in the rain under a polka-dotted umbrella – Zoobi doobi was classic romance reinvented!
Take the poll and pick your favourite Aamir Khan song.