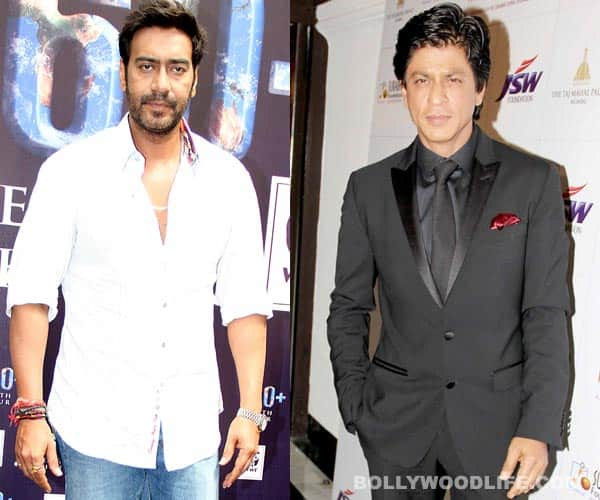 A BollywoodLife reader is sure that SRK's favourite co-star Kajol's husband is envious of his success
It's a known and accepted fact in B-town that actors Ajay Devgn and Shahrukh Khan are not the best of friends. Wethinks the reason for this is not just professional rivalry, but also the closeness that SRK and Ajay's wife Kajol share. SRK-Kajol have also been voted as one of the most romantic onscreen pairs of Bollywood, especially for films like Dilwale Dulhania Le Jayenge, Kuch Kuch Hota Hai and Kabhi Khushi Kabhie Gham.
Ajay recently made it clear that SRK was just an acquaintance. He said, "Salman Khan is a friend and I don't mind working with him…. As far as Shahrukh is concerned, he is just an acquaintance…I work with people I am comfortable with." Ouch!
Now we don't know if that remark pinched SRK, but it did hurt his fans. A BollywoodLife reader who goes by the name rima lagu (strangely similar to an actor's name) commented on the Ajay-SRK rivalry, saying, "Professional jealousy. Kajal teamed up with SRK and successful as on screen pair. He teamed up with Kajol but it didn't work. If a dumb character is created who can only do stunts, Ajoy fits there most. He can neither act nor do comedy. His films succeed but all were multi starred, whether Golmal or Bol B.chan."
To which reader SKF replied, rather furiously, "@RIMA if u've watched films like "zakhm", "takshak" and "the legend of bhagat singh" then u wouldn't have write such thing. If u didn't watch these movies watch them and then decide by your mind who's gon'na learn acting from whom???????"
Whew – we don't know if we want to be a part of the fight! But you can be. Do you agree that Ajay Devgn is jealous of Shahrukh Khan's success? Type in your comments below!
READ MORE: Anniversary Special: What are the best comments on BollywoodLife?