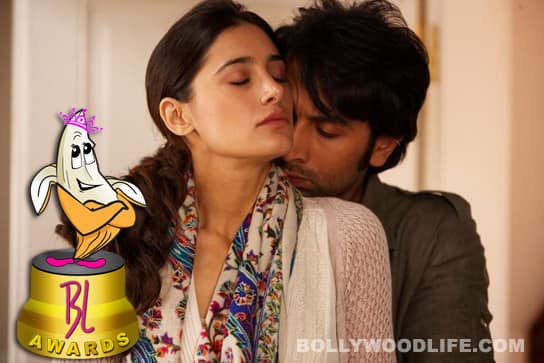 The BollywoodLife Awards 2011 results are out! Click to know the winners
Rockstar co-actors Ranbir Kapoor and Nargis Fakhri form the hottest new couple in Bollywood – onscreen, of course – with 54% votes at the BollywoodLife Awards 2011. Their tragic celluloid romance has made them a secure place in the hearts of viewers. Meanwhile, Emraan Hashmi and Jacqueline Fernandes in Murder 2 were also liked, garnering 29.11% votes. The unconventional romance of Imran Khan and Poorna Jagannathan in Delhi Belly got only 4.98% votes, which means Bollywood movie buffs prefer the conventional to the unusual. In comparison, the newly announced pair of Ranveer Singh-Sonakshi Sinha in Lootera managed to hog 11.92% votes – more than Imran-Poorna. Surprising, how much people expect from the new pairing even before the film has been fully shot. Good luck to Ranveer and Sonakshi! The total votes on this award were 663.
Disclaimer: The imaging has been done for representation purpose with no mala fide intention.
<<PREVIOUS: 'Criminal' beats 'Bhaag DK Bose' for Most Bizarre Lyrics! | NEXT: Katrina Kaif is the Female Rockstar of B-town! >>
ALSO READ:
ROCKSTAR: All you need to know about the movie