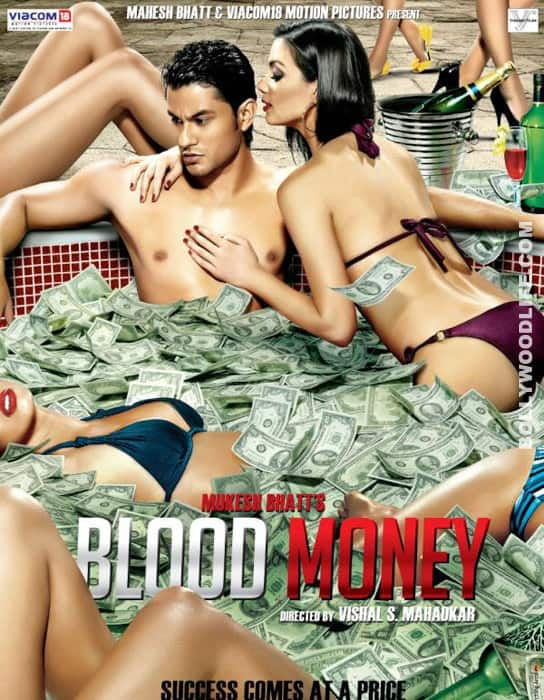 Click for synopsis, pictures, news, gossip and interviews
Kunal Khemu's new film Blood Money, produced by Vishesh Films, releases March 30, 2012. Actor Amrita Puri of Aisha fame acts opposite Kunal. Read on to know all about the movie…
REVIEW
BLOOD MONEY movie review: Mind-numbingly boring!
THE STORY
Blood Money narrates the story of Kunal (Kunal Khemu) and his wife Arzoo (Amrita Puri), who move to Cape Town after Kunal procures a job with a leading diamond export firm run by Zaveri (Manish Choudhary) and his brother (Sandiip Sikcand). The perks of the job includes a plush mansion, a swanky car and of course, all the opulence that money can procure. Gradually, Kunal finds himself trapped in the midst of a structured white collar crime conglomerate. How he struggles to get out of it forms the remainder of this story.
PICTURES
Vidya Balan, Anil Kapoor, Ali Zafar, Kunal Khemu at the Lavasa Women's Drive Awards 2012
NEWS, GOSSIP & INTERVIEWS
Amrita Puri: My character in 'Blood Money' is based on Emraan Hashmi's wife
Kunal Khemu unwell, cancels 'Blood Money' promotions
Kunal Khemu: From wannabe straight to stylish crop
Mia Uyeda: Nobody can replace Vidya Balan in 'The Dirty Picture'
Vishal Mahadkar: The easiest thing would have been to bring Emraan Hashmi on board
Mahesh Bhatt: I wanted 'Blood Money' to be titled 'Kalyug 2′
Mahesh Bhatt's 'Aashiqui 2' to be based on his first love
Kunal Khemu injured in a freak accident
Soha Ali Khan is okay with Kunal Khemu's flings!
Kunal Khemu and Soha Ali Khan not ready to wed or live-in
Soha Ali Khan: Kunal (Khemu) is still embracing his bachelor status!
Soha Ali Khan: I find it extremely difficult to say the word 'sorry'