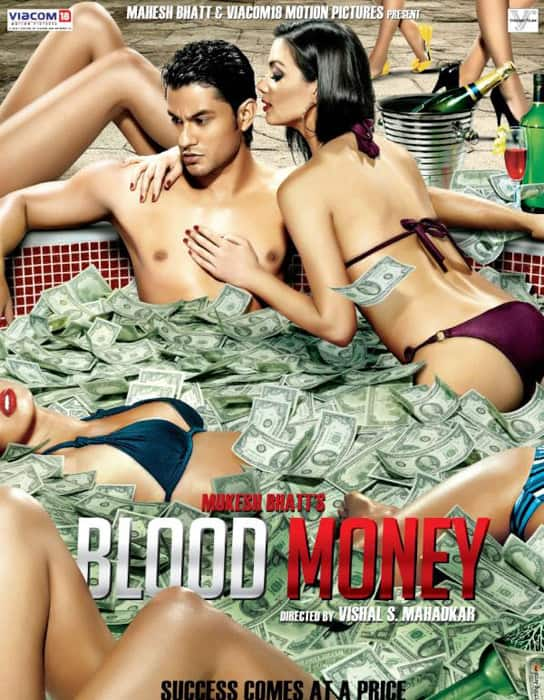 A predictable plot, mediocre script and sloppy direction make this film one hard slog. Simply put, Blood Money is just not worth your money
In a scene leading to the climax of Vishal Mahadkar-directed thriller Blood Money, Kunal Khemu's character is shown running away from at least a dozen goons to save his life. Stabbed in the gut and with blood spilling over his perfectly contrasting white shirt, our hero finds a safe corner on a rather buzzing South African street. Tucked in safely, away from the prying eyes of danger, Kunal whips out his cellphone and dials his wife to confess how much he loves her. "Main tumhari widhwaa ban kar wapas Mumbai nahi launtana chahti (I don't want to get back to Mumbai as your widow)," howls the concerned wife from the other end of the line. Watching this scene in the theatre you hear a collective chortle responding to the sentiment. This dialogue, however ridiculously unrealistic, is perhaps the only respite from the rest, the only thing that pulls you out of the abyss of boredom the film has pushed you into. Marred by corny lines, ridiculous writing and shoddy direction, Blood Money is a chore to watch. Don't get misled by the title and start drawing analogies with Edward Zwick's 2006 Hollywood thriller Blood Diamond starring Leonardo Di Caprio and Jennifer Connelly. Blood Money is original and innovatively boring.
Kunal Kadam (Khemu) is a newly married young man (straight out of a management institute) who comes to Cape Town, South Africa, with his wife Arzoo (Amrita Puri). Kunal has bagged an enviable post in a diamond company that offers him an unrealistically hefty pay cheque, a plush car and a luxurious penthouse. Just when the couple settles in to the new city and life seems too good to be true, harsh reality starts creeping in. Kunal discovers that his boss, Zaveri (Manish Chaudhari) runs many illegal businesses to stay at the top. With the able help of his secretary (Mia) and his brother, Zaveri lays a trap for Kunal. And the young man falls into it, irrevocably. Now Kunal can't quit his job. Zaveri is a well-connected mafia man who can bump both Kunal and his wife off even if they return to their homeland. Will Kunal ever get his freedom back and be the morally upright guy once again? You have to watch the film – and survive it – to know (Warning: The plot is enticing only on paper).
With every passing scene of this tedious film you do mental calculations for a possible surprising element, an unexpected twist or a thrilling sub-plot to spring up. None of it comes when you want it to, and then the director throws in the most clichéd spin at the end and you feel like throwing up. Instead of coming straight to the point, many scenes are stretched unnecessarily and further degenerate with horrible and at times laughable dialogue.
In the final analysis we can say that Kunal Khemu exerts himself as an actor and gives his best. His sincerity shows (this lad has given us memorable performances in films like Zakhm and Hum Hain Rahi Pyar Ke as a child artist, and he definitely deserves more opportunities). Manish Chaudhari is fine performer, but in this film he's largely caricatured in the role of a menacing diamond mafia mobster with a dual identity. One feels sorry for him, because his talent is totally wasted. Newcomer Amrita Puri doesn't have much to do, but somehow manages to irritate with her over-the-top, mushy voice. Mia tries hard to sizzle in a role that is specifically carved out for skin show, a mandatory feature in a Bhatt project. She doesn't have more than four lines to mouth, but arrests attention without using her facial expressions (pun intended! – and yes, Khemu does a passionate lip lock with this office hottie, but doesn't kiss his own wife even once. Moral of the story: good girls don't kiss) Music is the only saving grace of the film.
ALSO READ:
BLOOD MONEY: All you need to know about the movie