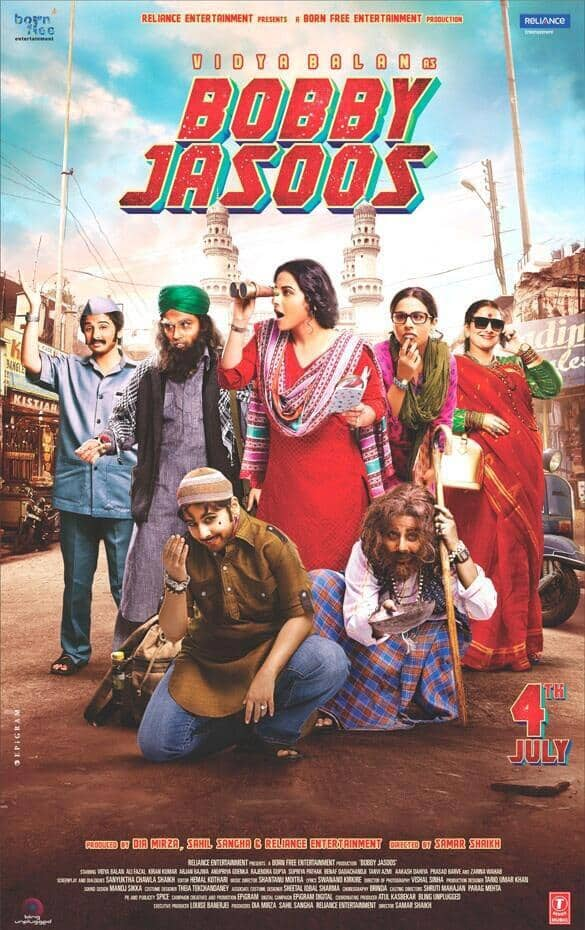 After Shaadi Ke Side Effects, Vidya comes up with a character driven film once more time!
Ever since we saw the first trailer of Bobby Jassos, we were amused with Vidya Balan's avatars were really keen on knowing what the versatile actor had to offer this time.
What's it about:
Bobby (Vidya) is a curious cat by nature. Living in the colorful bylanes of Hyderabad overlooking the Char Minar, she's the nosey sorts who loves to sneak up on innocent bystanders and find out what they are up to. Her ambition is to be a full time detective and open her own agency. Unfortunately her abba and extended family don't share the same sentiment. During the course of one such jasoosi she encounters Khan (Kiran Kumar) who gives her a series of tasks to trace some missing girls with strange birthmarks. In return she's offered big money! Using different ideas and get ups she manages to find the girls, but unknowingly gets dragged into a situation that isn't what it seemed to be. Along the way she also manages to find love in her foe turned friend TV journalist Tasavur (Ali Fazal).
What's hot:
It's a Vidya Balan film. There isn't a single frame that she isn't a part of. It is a role that is written keeping her mind. In fact there are scenes where her nuances and mannerism s seems to play off on their own, without conforming to the boundaries of the script. Vidya plays Bobby with full candor and sincerity. Her ability to switch from one emotion to the other in a jiffy is remarkable. Zarina Wahab, Supriya Pathak lend color and able support to the ensemble. The Hyderabadi setting, lingo, and flavour is aptly brought out by Samar Shaikh. If you haven't visited the place, Bobby Jasoos will give you a slice of what to expect. Ali Fazal looks good and despite his odd pairing with Vidya they manage to show some chemistry in the playful scenes. Arjan Bajwa is earnest while Kiran Kumar despite his sketchy role succeeds in impressing. A shout out to the make up and costume department for putting together those interesting looks, especially the opening scene and the one where she's a palm reader.
What's not:
The issue with the film is that it has a lot to offer, but it fails to make a cohesive effort to give its story a direction. We know she's a detective so there is a preconceived idea of what she's expected to do. The teasers and promos gave away all her looks, so what we are left with is the basic premise of her solving a case that takes us to a sorry anticlimax. Also despite the many getups, we only see glimpses of most of them, blink and you might miss some . The only dress up act that she plays to the gallery is where she's a TV producer auditioning girls for a part. For most of the film Vidya is in her regular avatar. The romantic track with her and Ali puts a brake to the pace and wears you out. Bobby's estranged relationship with her dad seemed like a parallel track that was used only to fill the holes. By the time we reach the climax, the revelation is such a big let down that you wonder if this was worth all those dress up gags!
What to do :
Watch if for the firecracker that is Vidya Balan. Now only if she had solved the case of the missing plot!
Rating:
out of 5
Reviewed by Tushar P Joshi
* Poor
** Average
*** Good
**** Very good
***** Excellent