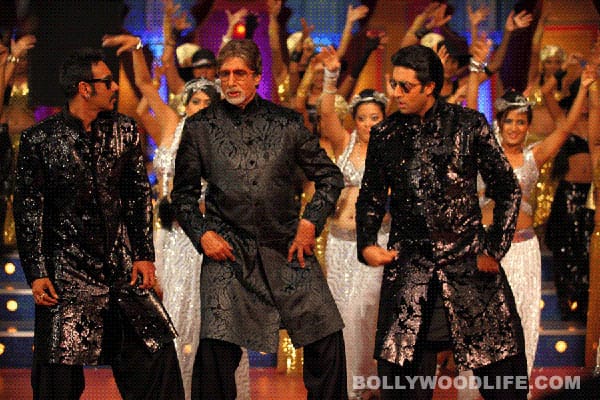 Music: Himesh Reshammiya & Ajay-Atul
Lyrics: Sameer, Swanand Kirkire, Farhad & Sajid
Rating: **
After composing the mediocre soundtrack of Vikram Bhatt's Dangerous Ishq, Himesh Reshammiya tries to create some fun and lighthearted songs for Rohit Shetty's Bol Bachchan
Interestingly, there are only four songs in this soundtrack. The album kickstarts with the title song, Bol Bachchan, a number sung by Amitabh Bachchan, Abhishek Bachchan and Ajay Devgn. The intention is to incite laughs, and Ajay and Abhishek try really hard to make it sound funny. But somehow it's just not comic enough. Bachchan senior's singing does evoke a bit of nostalgia, but the song clearly lacks punch.
Mohit Chauhan's Jabse dekhi hai is a romantic song written by Sameer. It's a totally 90s melody and sounds jaded. The 'Ya Allah' portions and the harmonium melody give some character to this boring song. But that's about it!
Chalao na naino se blatantly borrows portions from 1951 song from Albela, Bholi surat dil ke khote. And the mukhda sounds like Mehengai dayan from Peepli Live. Himesh incorporates the grunts of body builders quite musically and this ups the comic quotient. This song is slightly more entertaining than the rest of the soundtrack.
Nach le nach le, sung by Sukhwinder Singh and Shreya Ghosal starts like a romantic number, but goes on to become an oddly-paced combination of desi dhol beats and a tango tune. Music composers for this one, Ajay-Atul haven't managed to achieve the fusion they were aiming for. Swanand Kirkire has written the lyrics of the song. Lines like 'chupke se chori karo, chori me kitna maza, phir sina zori karo, duniya se nazare bacha' just don't click, especially when heard in the context of the music arrangement.
There is a remix version of each song on this album, but they seem pointless. Himesh seems to have lost his touch this time around. This album neither appeals to your senses, nor does it entertain. It's just plain boring.