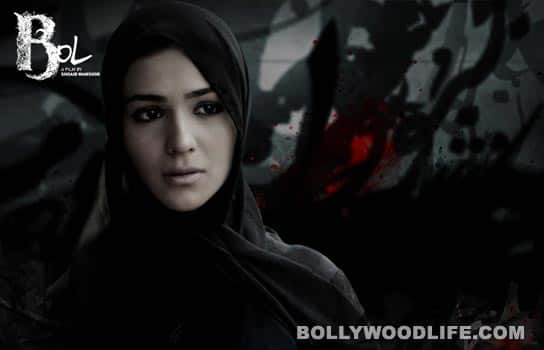 It highlights issues that are germane not just in Pakistan, but in many countries around the world
Pakistani director Shoaib Mansoor made a stunning feature film debut in 2007 with the critical, commercial and musical success Khuda Ke Liye that also featured a standout cameo by our own Naseeruddin Shah. While that film tackled the sensitive subject of religious extremism, Bol, his sophomore effort, looks at female emancipation in Pakistan. Bol suffers from some over the top acting, lacklustre music and some serious logic holes, yet the film is admirable because it highlights issues that are germane not just in Pakistan, but in many countries around the world.
Manzar Sehbai plays an aristocratic Hakeem fallen on hard times who lives in a crumbling house in Lahore. His quest is to have a son. Unfortunately for his wife, she gives birth to seven daughters. The eighth child is a hermaphrodite who the Hakeem wants to kill at birth but is prevented by his wife from doing so. His eldest daughter Zainub (Humaima Malick) returns home after a failed marriage and father and daughter disagree violently on a variety of issues ranging from the religious to the ideological. The film's story is told from the point of view of Zainab from the gallows ahead of her execution for a murder.
The character of the Hakeem was offered to Naseeruddin Shah who had to turn it down due to lack of dates. As interpreted by Sehbai, the well-written and nuanced character has been reduced to a caricature whose constant shouting and harrumphing do not do justice to the depths of the troubled Hakeem. Humaima Khan, as the film's mouthpiece against injustice to the eunuch, the girl child and womankind, invests her role with dignity. However, there are too many repetitive arguments between Zainub and the Hakeem about interpretations of the holy book. But one such argument is quite humorous. While following a cricket match on the radio, the Hakeem asks his family to pray for Pakistan's victory. Zainub retorts that God is not responsible for Sachin's or Inzamam's scores. Pakistan loses.
Logically, for a film that is supposedly rooted in burning issues, the script has holes that you can drive a truck through. For example, when the decision is taken to send the plump, fair hermaphrodite teenager (who has led a cloistered existence not having stepped out of home since birth) out to work, it is to a truckers' stop. The teen gets gang raped pretty soon. Also, Zainub, who's on trial for murder, decides to tell her story to the media only from the gallows, discarding the chances allowed to her to speak in court. Perhaps this is Mansoor's commentary on Pakistan's judiciary.
The many flaws are pardonable since Bol, apart from the issues it raises, provides a window into Lahore, a city rarely seen on screen by Indians. From the teeming brothels of the notorious Heera Mandi to the maze-like old city, Mansoor covers it all. Viewers will also be pleased to see popular pop star Atif Aslam in an acting role and the pulchritudinous model and actor Eman Ali as a Meena Kumari-obsessed courtesan. Mansoor leaves the viewer with a question: If murder is a crime, why isn't creating a new life if you cannot feed her also one?