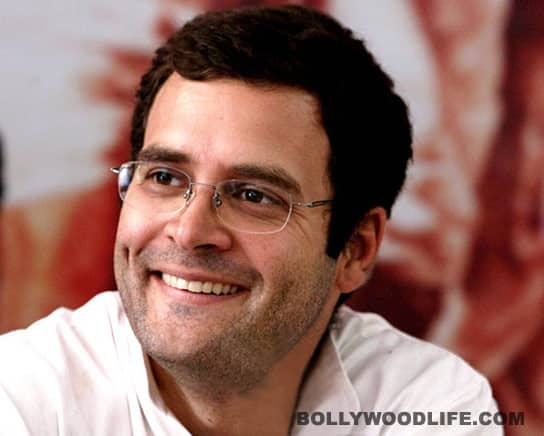 With mum Sonia Gandhi away for medical attention, Rahul Gandhi seems to have become the next big man of his party. But for our B-town girls, he has always been big! He beats all other politicians when it comes to his popularity amongst Bollywood's hotties. Many actors have named him as the sexiest politician in the country and many have confessed that they would love to go out on a date with him.
Here's what these beauties have said about him over time…
Sonam Kapoor
I would applaud him for his courage in trying to lead the country. His sex appeal lies in this humane quality that he has. That's the most important.
Deepika Padukone
I don't know much about politics, but from whatever I see on TV, whatever Rahul Gandhi is doing makes him a classic example for the youth. Hopefully, he will be prime minister one day!
Asin
His sex appeal lies in his persona, charm and intelligence.
Vidya Balan
His specs and the white kurta-pajama make him look very hot and graceful. Also he has a very charming smile that would make anyone connect to him instantly.
Amrita Rao
I would like to lure him into doing a film with me. I think his glasses are very sexy.
Celina Jaitley
On a date with Rahul Gandhi, I would expect loads of romance. His sex appeal lies in his charm.
Kareena Kapoor
I would like to date him because we both have famous surnames!
Mugdha Godse
He is young, dynamic and pretty intelligent. All this and his charisma make him sexy.
Bobby Darling
I am madly in love with Rahul and my dream is to get married to him. I'm a huge fan of his and I want to meet him at least once. He is very charming.