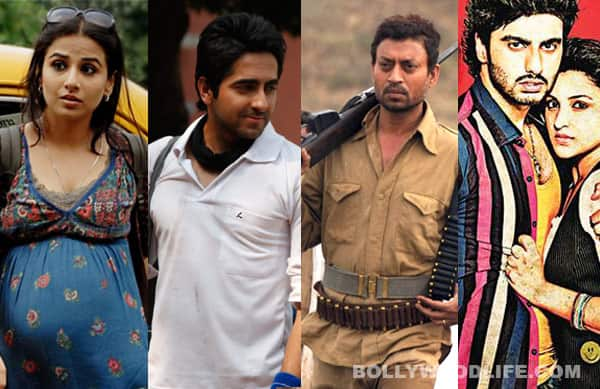 Ishaqzaade, Kahaani, Vicky Donor and Paan Singh Tomar did well in the first half of 2012. But in the second half, all eyes will be on the big-budget films of the Khans, say trade experts
Small is big in Bollywood. In the first five months, small-budget non-commercial films have kept the cash registers ringing and kept filmmakers happy, trade experts say, adding that the icing on the cake has been three biggies that crossed the Rs 100 crore (USD22 million) mark. In the second half, all eyes will be on the Khans.
A bouquet of non-commercial offerings – Kahaani, Paan Singh Tomar, Vicky Donor and Ishaqzaade – turned into big successes at the ticket window, which also saw biggies Agneepath, Housefull 2 and Rowdy Rathore doing roaring business.
Rajesh Thadani of Multimedia Combines said, "I would say small-budget films have done exceptionally well at the box office. Ishaqzaade has collected around Rs 40 crore, Kahaani Rs 75 crore, Vicky Donor Rs 45 crore and Paan Singh Tomar Rs 20 crore." Except Ishaqzaade, which was made at a budget of Rs 25 crore, the other three were made within Rs 10 crore – Kahaani in Rs 8 crore, Vicky Donor in Rs 5 crore and Paan Singh Tomar in Rs 4.5 crore. Thadani added that the "satellite rights of these small-budget films have also been sold at a high rate and the films have garnered profit there as well".
Both, filmmakers and audiences have evolved and so, non-mainstream cinemas' box office returns have been overwhelming. Pramod Arora, CEO of PVR Cinemas, explained the phenomenon, saying: "This is the process of evolution. A lot of non-mainstream cinema happened to be mainstream, including Vicky Donor, Kahaani, Paan Singh… among others. Had Vicky Donor released two years back, it may not have worked. It would have been taken as a taboo subject."
Sanjay Ghai of Mukta Arts said that "as far as small-budget films are concerned, projects like Kahaani, Vicky Donor, Paan Singh Tomar and Ishaqzaade have not just recovered the money but have also earned decent profits in various circuits."
The year 2011 helped Hindi cinema break the gloom of 2009 and 2010, with several films crossing the Rs 100-crore mark. In 2012, about 45 films have come out so far and some big-budget ones among them crossed the Rs 100-crore mark. Trade analysts call it a very positive sign. "Three big films including Agneepath, Housefull 2 and Rowdy Rathore crossed the net Rs 100-crore mark," said Ghai.
Giving the box office figures, Thadani said: "These big-budget films have marked a record this year. Agneepath has collected around Rs 120 crore, Rowdy Rathore Rs 105 crore so far, and Housefull 2 Rs 110 crore." Most importantly, filmmakers didn't hesitate in releasing movies during Indian Premier League matches and enjoyed good business. "Films have done very well at the box office; in fact, it has been better than last year. This year's collection was superior to last year's. There was not a single fall during the IPL. The fear factor of releasing your film during that period was not there," Arora said.
Trade analyst Amod Mehra summed it up, saying: "This year, some films have done exceptionally well and some have not, but so far the collections at the box office have been satisfactory." Then came a rider: "No big ones like a Salman Khan or a Shahrukh Khan or a Aamir Khan film has released yet. The real picture is yet to come in the second half of the year." Salman's Ek Tha Tiger, Shahrukh's film with Yash Chopra and Aamir's Talaash are scheduled for release later this year. But trade analyst Vinod Mirani feels filmmakers should focus on content and not on the Khans. "We don't need Khans to run a film…we didn't have any Khan in Kahaani and Vicky Donor; they still did well. It all depends on the content. You might get an initial opening (with the Khans), but the script should be strong enough to survive," he said.