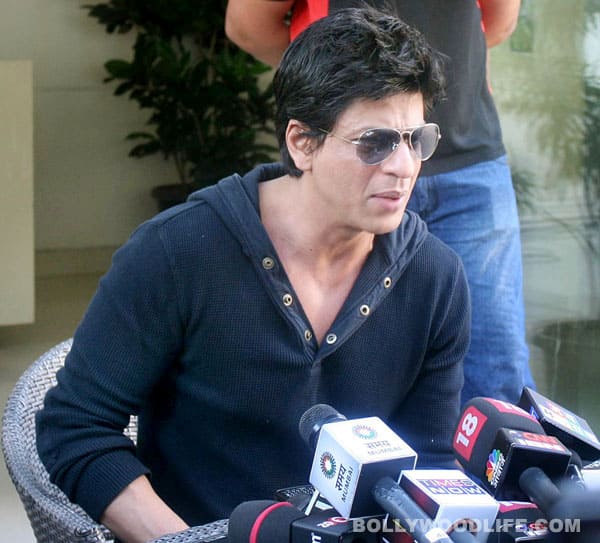 Mumbai police has registered a non-cognizable offence against SRK for criminal intimidation and voluntarily causing hurt; the MCA committee meets today to decide if the star should be banned from Wankhede Stadium for life. But the film industry is backing Shahrukh
While the Mumbai Cricket Association (MCA) has been hurling allegations at Shahrukh Khan for his abusive behaviour under the influence of alcohol at the Wankhede Stadium on Wednesday night, SRK has made it clear that he and his children were mistreated in the name of security. SRK did not deny being abusive but he said that he got angry for a reason. Apart from the fact that his children were being pushed around, Khan has also said that while other Indian Premier League owners (read the Ambanis – owners of Mumbai Indians) are allowed to move around freely on the field, he was targeted on purpose.
A photojournalist, who was present when the scuffle took place, has also come out in defence of Khan, saying that the security personnel were misbehaving and forcefully made him delete pictures that captured the scenes.
While Shahrukh Khan's fans have been expressing disappointment saying that SRK should have kept his cool and been more responsible, many of his star friends have said that security scuffles of this kind are not rare. And that the incident has been blown out of proportion because SRK is a star.
His friends have been quite vocal on Twitter. Here's what they are saying…
Kamaal R Khan: I can see daughter of SRK at the time of incident so SRK was right. I would kill tat ch***** guard on the spot if he will push my daughter.
Sujoy Ghosh: read about the SRK incident. I think @iamsrk was very decent about the whole thing. I'd have ripped their heads off if it was my daughter.
Karan Johar: Srk is one of the best fathers i know….and protective about every child…he was being just that….a protective parent!!!Why blame a man who was just reacting as a father….who wouldnt have done the same in his place???
Maheep Kapoor: All SRK was being was a protective parent and a guardian to many children…including my own…no parent can see a child manhandled…why blame SRK for taking charge of a situation in the face of out of line security….
Deanne Panday: My son was there with Srk & other kids @iamsrk did the right thing by protecting our babies,why doesn't the media/officers see that,so angry
Vishal Dadlani: Straight up. Touch my family, I destroy you. No question.
Ronit Roy: BEWARE!!DON'T BULLY OUR DAUGHTERS!!If it was my daughter I'd hv been booked for half murder!! Chudiyan nahin peheni hain humne! GO @iamsrk MCA guard didn't recognize @iamsrk?What? He didn't recognise the king Khan?He didn't recognise a team owner.He's on the wrong planet dude!! I've got first hand reports of the fracas with @iamsrk. His daughter was touched and shoved. He protected. Well done Dad!!
Rangita Pritish Nandy: So I'm with Shahrukh Khan on this one. Expletives, anger included. All you trolls be m****f***ing damned.
Mahesh Bhatt: The Celebrity industrial complex demands a constant flow of immediate and sensational celebrity news.
Celina Jaitley: Why blame a man who was just reacting as a father….who wouldnt have done the same in his place???
Milap Zaveri: Somebody physically pushed Suhana for playing! Any parent would have done what @iamsrk did! Why wouldnt he be angry? Its Unfair to victimize @imsrk being a good father just coz he's a star! Kudos to him for protecting his daughter!
ALSO READ: Is Shahrukh Khan the new 'bad man' of Bollywood?
Shahrukh Khan was in no mood to listen: Vilasrao Deshmukh
Shahrukh Khan was trying to protect his daughter at Wankhede