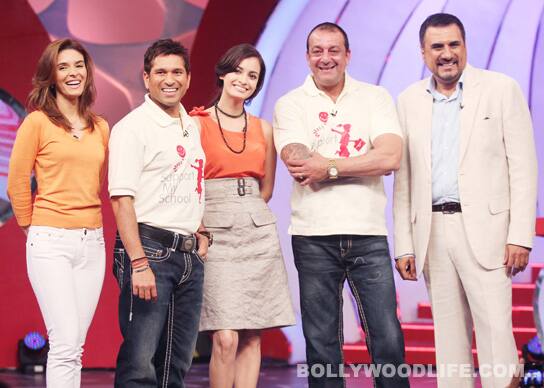 skip advertisement
The money raised will be used for creating special facilities for girls, drinking water, rainwater harvesting, and sports and games in each of the schools
Sachin Tendulkar's 'Support My School' found an overwhelming support by Bollywood superstars on Sunday. Numerous celebrities joined Tendulkar in the 12 Hour LIVE Telethon telecasted across the NDTV Network Channels generating over Rs 7 crore which will be utilised to give Indian children a better tomorrow. Tendulkar dedicated nine hours of the day to the 12-hour Coca-Cola-NDTV Support My School telethon. He also answered questions from schoolchildren ranging from improving their game to balancing their studies with sports. The funds generated will reach out to transform over 142 schools across length and breadth of the country providing basic infrastructure, sports, and recreation facilities.
Some of the key Bollywood contributors:
Amol Gupte – Rs 20 lakh
Sanjay Dutt – Rs 11 lakh
Ajay Devgn – Rs 10 lakh
Akshay Kumar – Rs 10 lakh.
Sachin Tendulkar himself made a personal contribution of Rs 10 Lakh on behalf of his children. The money will be used, at Rs500, 000 per school, for creating toilets for girls and facilities for drinking water, rainwater harvesting, and sports and games in each of the schools.
There were few valuable contributions made by corporate as well.
Corporate contributions:
Coca Cola & UNHABITAT – Rs 1.35 crore
Nita Ambani – Rs 1 crore
Coke Bottlers – Rs 40 lakh
Ajay Bijli – Rs 15 lakh.
Other Bollywood celebrities who contributed to the noble cause are Govinda, Imran Khan, Boman Irani, Darsheel Safary, Gulshan Kumar, Neha Dhupia, Dia Mirza and Raageshwari.
Boman Irani and Govinda visited a few government schools in Mumbai, where the children not only learnt something new, but also showcased their dancing talents. A special quiz show on Sachin named 'All About Sachin' quiz was also undertaken with stars like Sanjay Dutt, Dia Mirza, Raageshwari and Boman Irani hosting it.
Photos: Yogen Shah