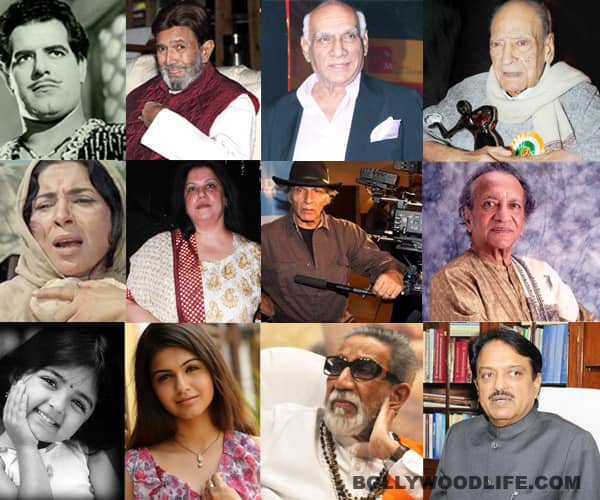 The Indian film industry – be it Bollywood, the South, Bengali or Marathi – lost some very important people in 2012. We pay homage to those who bid adieu, including family of industry folks
The most shocking B-town deaths in 2012 were of filmmaker Yash Chopra and actor Rajesh Khanna. The Yash Raj Films' head honcho passed away due to dengue and multi-organ failure on October 21, a month before the release of his last directorial project, Jab Tak Hai Jaan. And Khanna, known as India's first superstar, died of health complications on July 18. Veteran wrestler-actor Dara Singh's death on July 12 also saddened many. But actor-filmmaker Jaspal Bhatti's death in an accident on October 25 sent shockwaves through the Hindi and Punjabi film and TV industries.
Sitar maestro Pandit Ravi Shankar passed away on December 11 due to old age-related health problems. Although he was connected to B-town in a small way, many mourned his passing away. However, when film and TV personalities Anand Abhyankar and Akshay Pendse were killed in an accident on the Mumbai-Pune Expressway on December 24, it was a blow to the acting world, and to fans everywhere. Cinematographer Bobby Singh died in Goa on December 25; he suffered an asthma attack owing to a crab allergy. This month's losses also include Ashok Kumar's daughter, actor Preeti Ganguly (December 2), young South actor Yasho Sagar (December 19), and actor-photographer Deepti Naval's father.
Politician Bal Thackeray, who was connected to some major Bollywood celebs, breathed his last on November 17 due to old age. On the same day, film distributor Ponty Chadha, a liquor baron and real estate magnate, was murdered at a shootout at his brother's farmhouse. Actor Juhi Chawla's cousin Sonia succumbed to cancer on November 1. And veteran Bollywood photographer Dhiraj Chawda left for heavenly abode on November 6.
Many more shocking deaths took place in October, apart from Yash Chopra. On October 8, veteran playback singer Asha Bhosle's daughter Varsha committed suicide when Asha was away in Singapore. Also, South Indian actor Bidushi Dash Barde was found dead in her apartment in Mumbai on October 22 under mysterious circumstances. Shubha Phutela, another young and promising actor who worked in Tamil films, passed away at the Apollo Hospital in Bangalore due to kidney failure and jaundice on October 23. Director Prem Raj Soni, who helmed Preity Zinta's Ishkq in Paris, lost his father on October 21. Prem himself is undergoing cancer treatment in the US and we wish him a speedy recovery. South and Bollywood actor Trisha Krishnan's father died due to a cardiac arrest on October 18. Also, child actor Satvik Reddy was killed when a car ran over him during a TV shoot in Hyderabad on October 26. Kannada actor Hemashree was found dead on October 9.
September 28 saw the death of veteran film editor MS Shinde at the age of 82. Another shocker was the loss of National Award-winning filmmaker Sanjay Surkar on September 28 due to a heart attack. Just a day before (September 27), renowned cinematographer Rajen Kothari passed away – also after cardiac arrest. On September 24, veteran Malayalam actor Thilakan, who had been ailing, breathed his last. Hindi film and theatre actor-director Dinesh Thakur died on September 20 with kidney problems. Director Rakeysh Omprakash Mehra's mother passed away on September 8.
Bollywood's veteran actor AK Hangal died due to illness at 97, on August 26. Ace cinematographer Ashok Mehta left us on August 15; he was suffering from cancer. Actor Riteish Deshmukh's father Vilasrao Deshmukh, union minister and two-time Maharashtra chief minister, succumbed to liver cancer on August 14. Renowned fashion photographer Prabuddha Dasgupta died on location on August 13. Early August 9, lawyer Pallavi Purkayastha, legal adviser with Farhan Akhtar's production company, was murdered by her building watchman.
Apart from Rajesh Khanna and Dara Singh, July saw the death of BR Ishara, director of the classic Chetna. On June 3, director Rajkumar Hirani's father passed away after a prolonged illness. On June 13, Pakistani ghazal maestro Mehdi Hassan, an inspiration to many in Bollywood, succumbed to illness related to old age. Another important personality who left us was BK Karanjia, film journalist and former NFDC chairman. He died on June 22 due to old age. Veteran south director KSR Doss passed away on June 8 at 75. Nora Ephron, ace Hollywood screenwriter, succumbed to acute myeloid leukaemia on June 26. She is relevant to Bollywood, as many Hindi films were inspired from her hit movies! Another sensational case was that of Wafaa actor Laila Khan who was shot dead by a relative in Mumbai. Her remains were found in July but she had been missing for a year.
May 2012 was another tragic month for filmdom and the TV industry. Adorable child actor Taruni Sachdev, who had acted alongside Amitabh Bachchan in Paa, passed away in a plane crash in Nepal where her family was on pilgrimage. Her mother was also among the dead. Item girl Rakhi Sawant's dad died from illness on May 15. B-town villain and stunt favourite Gavin Packard passed away on May 18 due to a respiratory disorder. Tamil actor Dilip died on May 25 of kidney failure and a heart attack.
April saw the death of two veterans – Bollywood actor Achala Sachdev who died due to old age and Malayalam filmmaker Navodaya Appachan aka MC Punnoose who succumbed to prostate cancer. Small-time actor Anuj Tikku's father Arun was found murdered on April 7. B-town actor Meenakshi Thapa's headless body was found on April 18 by police.
March was another killer month, with the passing away of two ailing veterans – actor Joy Mukherjee (March 9) and music director Ravi (March 7). Producer Mona Kapoor –actor Arjun Kapoor and producer Boney Kapoor's ex-wife – succumbed to cancer on March 25. On the same day, veteran music composer Khayyam's son Pradeep died of a heart attack. Filmmaker Anubhav Sinha, the director of Shahrukh Khan's RA.One, lost his mother on March 28. Malayalam thespian Jose Prakash passed away on March 24, while Malayalam scriptwriter T Damodaran died on March 26. B-town art director Ashish Lakhia had a multiple organ failure on March 11 leading to his death. In mid-March, light man Machinder Arvel aka Bala who was working on the sets of Ajay Devgn's Son of Sardaar, lost his life due to electrocution.
On February 10, veteran filmmaker OP Dutta, director JP Dutt's father, died. Actor Anupam Kher lost his father on the same day. But Anupam preferred to 'celebrate' his dad's transition to another world, rather than mourning it. The actor also lost his manager Bhaskar Shetty in March. Filmmaker Raj Kanwar died in Singapore on February 3. Poet Shahryar aka Akhlaq Mohammad Khan went down fighting lung cancer on February 13. Tamil actor SN Lakshmi suffered a cardiac arrest and died in Chennai on February 20. Yesteryears' popular music arranger Anil Mohile also died of cardiac arrest on February 1.
Veteran Bollywood heroine Kalpana Mohan, who had acted opposite Dev Anand and Shammi Kapoor, succumbed to cancer on January 4. TV actor Rubina Shergill died on location her show owing to an asthma attack on January 12. Anthony Gonsalves, a Goan orchestra maestro who inspired Amitabh Bachchan's song My name is Anthony Gonsalves, passed away on January 18 due to pneumonia. And finally, renowned film critic, journalist and author Nikhat Kazmi died on January 20 of cancer.
RIP.