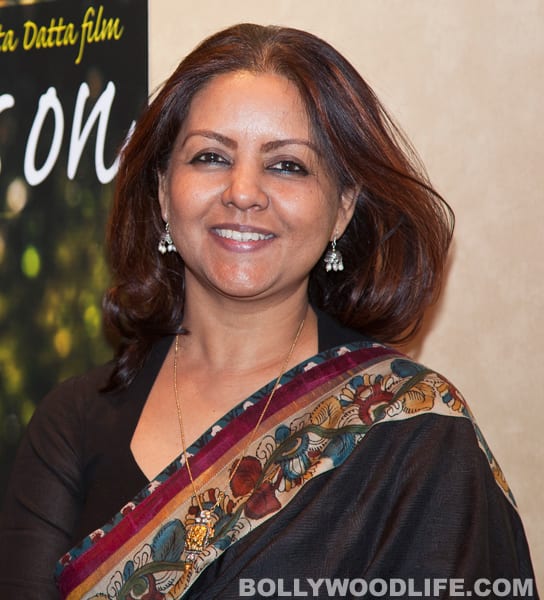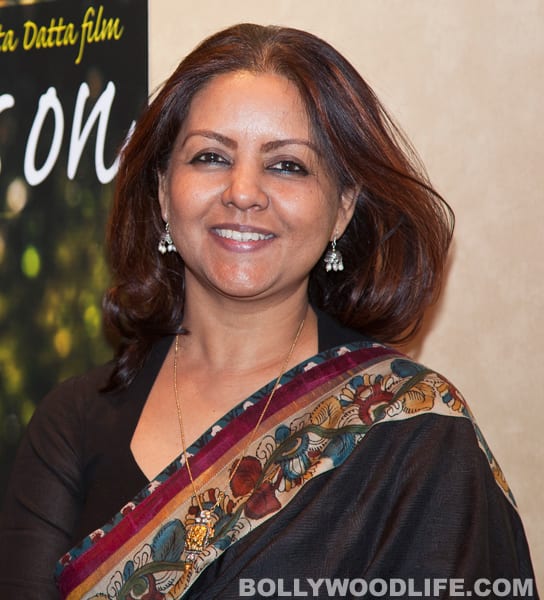 Sangeeta Datta believes in alternate cinema and in sending out a message about the real world through the reel medium
Actors Sharmila Tagore and Soha Ali Khan play mother and daughter for the first time on screen. The person who has made this casting coup possible is filmmaker Sangeeta Datta, that too in her debut feature film. Life Goes On is a modern-day adaptation of William Shakespeare's play King Lear. In a candid chat, Sangeeta talks about timeless classics, directing stalwarts in her first film and the difficulty of being an Indian woman director in England.
Though excited about it, Sangeeta admits that she didn't have much to do with her casting coup. "The film was to be shot in London over one month. We wanted to cast locals since it is not possible for actors from elsewhere to give so much of their time at one stretch. However, we couldn't find strong performers in the required age group. So, we decided to cast from India. I had anyway written the script with Sharmila Tagore in mind. Fortunately, she liked the idea and once she was on board, it was natural that Soha play the role of her daughter." So everything just fell into place for this adaptation of King Lear.
That begs the question, why King Lear? Bollywood has already seen modern day adaptations of Othello and Macbeth, and if rumours are to be believed, it's Hamlet next in queue. Says Sangeeta, "King Lear is one of my favourite Shakespearean tragedies. I wanted to explore if the literary classic still has meaning today, if it stands the test of time. I felt the story of generational conflict between the father and the daughter and the choices they make is very contemporary. The story is set post the 9/11 and 7/7 events when prejudice against the Muslim community was growing very strongly in the West. The situation makes you want to probe how events in the past colour our perception."
Sangeeta cut her teeth assisting Basu Bhattacharya and later Rituparno Ghosh on Chokher Bali, The Last Lear and Raincoat. She accepts that her sensibilities are more attuned to 'alternate' cinema. "The tradition of alternate cinema – Shyam Benegal, Satyajit Ray – is really exciting. It's something I really believe in. I feel cinema should be more than just about entertainment."
Having worked with Rituparno on three films, it is but natural that his working style would influence hers. "Working with Rituparno, I understood the importance of detailing in the script, the planning done before the shoot, of keeping the aesthetics in mind and that the director should make his contribution to all departments."
When Sangeeta turned feature filmmaker, she became the latest in a not-so-long line of Indian female directors – Aparna Sen, Tanuja Chandra and Kiran Rao – who have opted to tread the route of alternate cinema. So, how difficult is it being a female director? "I've seen a lot of discrimination happen in Bombay. The industry is male-dominated and patriarchal. To get men to listen to you is a problem." On top of it, being a foreigner shooting in England would have been much tougher. "Yes, because you are further removed, especially when you are not working with an Asian unit. The unit on Life Goes On was British and they didn't know anything about Indian films. But they were young, enthusiastic and willing to learn. Of course, we did have a couple of people who wanted to cause trouble but you will see people like them in every field. We did as much prep as we could before the shoot because we were shooting for just four weeks. You walk in to the sets and you have all these people looking at you for direction, it does seem like a battlefield. You have to take it in your stride. Most of it was good and since we were shooting inside a real house instead of a set, it gave the unit a sense of being an extended family. We are still in touch."
Sangeeta believes that being a woman director also changes the way you view a film. "I totally believe that men and women think differently and male and female directors bring different sensibilities to the sets. They can be making the same script and look at it differently. I had made a documentary once called The Way I See It in which we spoke to six-seven filmmakers and we talked about how gender affects the point of view in every aspect of filmmaking. Then again, there are some filmmakers who are not bound by this. In Rituparno Ghosh's case, he is a male director, but his sensibilities are more female-like."
Now that she has made her debut, life goes on for Sangeeta too. What about future projects? "I believe in alternate cinema, but I am open to directing the typical commercial, masala ventures as well. I don't have any restrictions in terms of the genre. If I am convinced about a project, I will do it. As long as it is not like the kind of really bad films I see around me," she concludes.