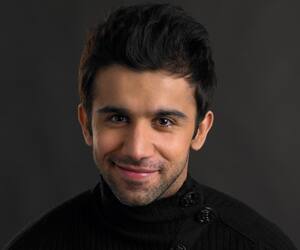 The newbie gets chatty about his debut film 404 and what acting means to him
The first thing that strikes you about Rajvvir Aroraa is – you guessed it – his spelling. Ask him about the 'numerology' effect and he laughs it off. "You could say it is somehow related to it. If adding a 'v' or an 'a' can bring me success, then why not?" The actor, who is making his debut with the psychological thriller, 404, knows that success can be pretty elusive. That's why he opted to finish his education first before entering the film industry.
"I come from a service background, having no connection to the film industry. I always knew I wanted to be a part of the Hindi entertainment industry, but our family values education. My parents and I both thought I should complete my studies first," he says.
So, Rajvvir went to London to do his masters in marketing and finance, and only then came to Mumbai. How come he didn't opt for an acting course in London instead? "I don't believe acting is something that can be taught. I used to switch on my video camera and enact scenes in front of it, to study on my own. But I did a workshop with Om Kataria sir since I needed to hone the craft. It's better to do a workshop than go for two-year courses because in the end, acting is something that comes from within."
It's been a long, hard journey of four years, but Rajvvir is not ready to give up. "When I first went to audition for 404, it didn't go very well. I was determined to do the role and so, auditioned again. Finally, I bagged it."
So, what's this role all about?
"The film is set in a medical institute. I play a student called Abhimanyu who along with his professor, represent perfection and reality. It's a challenging role, as it's not me at all. Abhimanyu is completely different from who I am."
Isn't a psychological thriller an unconventional debut, when most actors prefer to make their debut with a love story? Rajvvir doesn't believe in that. "I would love to do a love story, but I want to experience all genres and not stick to one. I want to do totally different characters. And anyway, 404 is not the first film I had signed."
Now that's a shocker. Surely, if we had seen this good-looking dude somewhere, we would remember, right? "The first film I signed was Ekant. It's complete, but yet to release. So, 404 has become my debut film."
That seems to be going around nowadays. Even director Abhinay Deo was to make his debut with Delhi Belly but Game released first. You just can't beat fate, can you? But just like Abhinay, Rajvvir doesn't mind his second film releasing first. "It was a great experience. I got to work with four terrific directors – Prawaal Raman (the film's director), Nishikant Kamat (Mumbai Meri Jaan director, making his acting debut), Satish Kaushik, and Laurens Postma, a British director who plays the dean of the institute. I was constantly under their eye and they were really helpful in offering advice on my performance. I learnt a lot from them. It was a superb opportunity." Especially since Rajvvir wants to turn director one day. "Five years on, I would love to direct a film. I plan to enroll for direction classes once 404 releases. Till then, I will totally focus on acting."
Acting, says Rajvvir, is everything. "It is my life. I want to be honest to my role and recognised for my efforts."
And though he does not come from a film family, he says he did not face any kind of discrimination. "I had to struggle a lot and it is tough to enter the industry from outside to some extent. But I really believe times have changed. People are giving a chance to newcomers. You just need to be honest with your character and yourself, not lose control of your mind when times are tough, and work hard. One day, you will definitely make it."
Well said, Rajvvir. We hope it works for you.