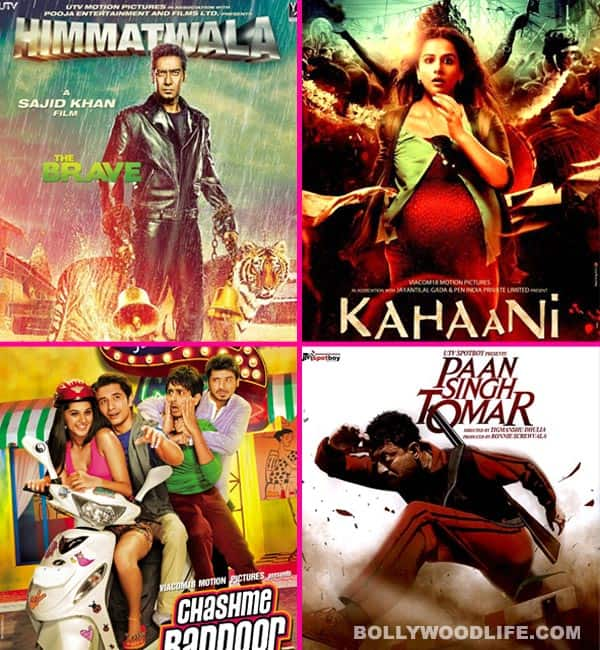 It's high time we start looking ahead to what B-town filmmakers have in store… strictly story wise, of course! Come on, film buffs, how long are you going to survive on sequels, remakes and formulaic films?
For the last couple of years, we have been seeing how filmmakers, especially good storytellers like Rajkumar Hirani, Anurag Kashyap, Imtiaz Ali, Zoya Akhtar and Reema Kagti who particularly moved us with their brilliance, shook our sensibilities with their novel ideas and narrative styles. In Bollywood, only a handful have the power to influence a mass and a niche audience, and their way of thinking. Deviating from the usual formulaic films, these dreamers view the medium of cinema from a hatke perspective, looking at life through the transparent glass of their own minds.
After a brief glimpse of the vast and infinite vision of such visionaries, we look forward to seeing the perspective of the younger generation of talented writers and their understanding of cinema, story and characters on the 70 mm. On the second anniversary of BollywoodLife, we hope the fresh lot of writers can create for us new dreams…
More original ideas, fewer sequels and remakes: While discussing the trend of sequels and remakes and filmmakers' obsession for them, Sajid Khan pointed out that there's indeed a dearth of good writers and storytellers in Bollywood. He asked, 'Where are today's Salim Khan and Kader Khan?' David Dhawan too echoed the same sentiments while talking to us few months ago. In the first half of 2013, we had more remakes and rewrites (as Sajid likes to call them) such as Race 2, Murder 3, Himmatwala, Chashme Baddoor, Shootout At Wadala and Aashiqui 2. Considering the pace at which Bollywood churns out movies year after year, it seems that filmmakers and production houses prefer to devote minimum time on a project and aim for maximum recovery. And that happens only because of the overwhelming unwillingness to think up and write a fresh story.
Big production houses should back good scripts: Had Jayantilal Gada, head honcho of Pen India Pvt Ltd not agreed to produce Kahaani, we would certainly have missed a worthwhile work from promising director Sujoy Ghosh and actor Vidya Balan. A novel genre should always be welcomed, but the industrywallas tend to run away from experimenting with anything new. After all, it takes courage and conviction to venture into unexplored territory while making the venture successful. It's not really the attitude of the writer or the filmmaker who conceives the idea, but that of the producer that makes the difference. And it is most often that same producer who is reluctant to try something new.
A writer needs creative freedom: Quite often we complain about movies being unnecessarily stretched and ruined, as filmmakers, production houses and sometimes even actors want to incorporate item songs, dream sequences and explanations, thus killing the overall narrative of the film. If a good story is nudged in the right direction without hurdles, there will certainly be good scripts, thereby encouraging a well-made movie.
Biopics: It's certainly not easy to make a biopic, but the concept works well with the audience. Only a few filmmakers have attempted to make movies based on real-life people or incidents, that too, successfully. After films like The Dirty Picture and Paan Singh Tomar, we would like to see how Farhan Akhtar's biopic – Bhaag Milkha Bhaag on the legendary athlete Milkha Singh has turned out. Besides this, we look forward to Vidya Balan as MS Subbalakshmi in an untitled project and Ranbir Kapoor playing Kishore Kumar in Anurag Basu's version of the late singer's life.