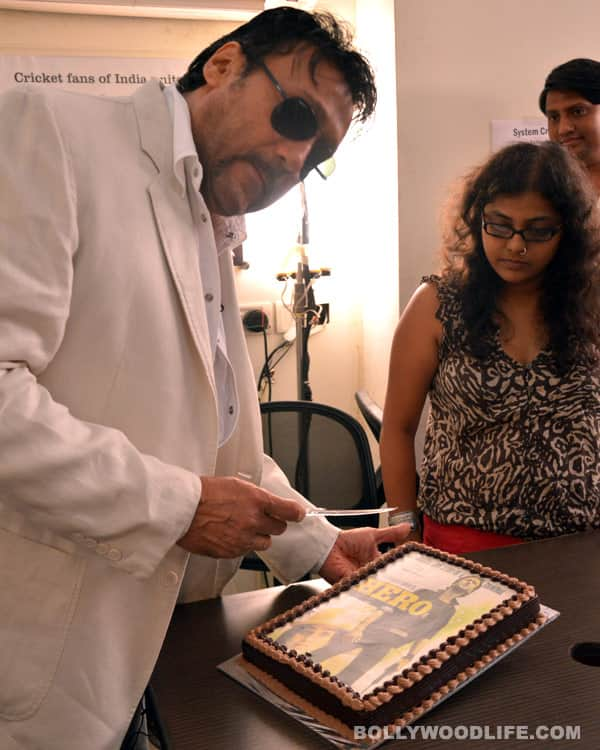 skip advertisement
Jackie-shroff-cutting cake
The Aurangzeb actor took time out from his hectic shooting and promotion schedules to visit the BollywoodLife office and celebrate 30 years of his 'Hero'ic journey….and to cut our second birthday cake too!
Jackie Shroff is just like a genie! You make a wish and he will grant it. And we can vouch for that. Call it destiny or anything else, the actor completes 30 years in Bollywood this year, just as we turn two years old, and that certainly called for a double celebration. When we invited Jackie to come eat cake with us at our office, he assured us that he would in his trademark style: "Aa jaunga, bhidu!" A man of his word, the actor, our genie, fulfilled not just our wish, but had the entire India.com team thrilled to meet him (take a look at the pics), cheering them on with "Kaisa hai, bhidu, kaam karna ekdum dabaake!" and other one-liners.
After a hilariously candid chat fest, Jaggu dada took a walk around the office and interacted with almost everyone in the office, from staff members to canteen boys, and obliged every request for a photograph. He smiled, he flirted, he charmed. They don't make actors – or people – like him any more! And yes, as a parting note, our favourite bhidu promised us that he'll visit again soon. Till then, we cherish the memories, while you savour all the fun, vicariously…
We are celebrating two years of being us and you're celebrating 30. You have some fabulous films coming up. Tell us more…
I'm enjoying it!
Aurangzeb is supposed to be based on the real-life story of the land mafia in Gurgaon…
I have no idea at all. My character in the film deals in land and makes huge buildings. And the land business is better than smuggling. Director Atul Sabharwal has done a superb job. The trailer has opened to a fabulous response. To make me look the way I look after 100 plus films was a task, and the technicians and the team have done a fantastic job.
The style of filmmaking has drastically changed – things are more organised, with bound scripts. Did you notice a big change while working in today's setup?
I've worked with Yash Raj Films now after Aaina, and their style of working has always been the same. For me, YRF is a steady house. We had a bound script during Aaina too. So I didn't notice much change during Aurangzeb. During Aaina, we would wait for our dialogues to come from Mumbai. And we actors used to tell each other – garma garam dialogues aa rahe hain! Today, things are changed, maybe because of the advent of corporate production houses. They are ready to shell out money, but they need to know where that money is going. People are falling in line, I think.
Interestingly, Karan Johar recently said that though there is discipline now and the industry has become more organised, the love and compassion that used to bind people is missing….
I'm sorry to defer on that. For me, it's still the same. Pyaar mohabbat se hi toh log jeete hai, bhidu. Clinical ho gaya hai, lekin uske baad bhi pyaar mohabbat hai. If there's no love and warmth, it would get cold. You've got to feel the warmth of people. When I meet my co-stars, directors or anyone else from the industry, I feel the same warmth. I guess some people couldn't see that. Bollywood is a big family and like every family has its own problems, film industry mein bhi jhagde chalte rehte hain. When we work on a film – right from the producer, director to the carpenter and chaiwaala… we are all buddies. You just can't do it if there's no emotion. It's not just money! You all are doing business, but you all love each other, na?
You've done such varied roles – Aurangzeb being a fairly violent and intense film and Sai Baba, a different genre altogether…
(Interrupts) I did Mission Kashmir and Sai Baba then… One was an absolute fakir baba role and the other was a complete shaitaan. Kar sakta hai… mera thobde ko directors kaise bhi mould kar sakte hain. As I told you, it's a technician's game. It all depends on the cameraman, light man and the writer. We are actors; we can go any way. I never live in the illusion ke main hi main hoon – abbe jaa, bey! (laughs loudly).
VIEW GALLERY (Interview continues below)
Do you impart cinematic knowledge and share experiences with your son Tiger, since he's working on his debut film?
No, as a kid Tiger has been watching me interacting with people. His ears and eyes are always open, and he's smart. He watches and learns from it, but I don't teach, nor do I preach, nor do I go on his movie sets and check what he's doing, or even what's the story of his film. I never ask him. It's his baby and I believe he's doing it nicely.
His debut film is called Heropanti and your debut film was Hero. Is that a coincidence?
Yeah, there's a feeling ke father ne Hero kiya hai toh beta Heropanti karega. I should ask this question to Sajid Nadiadwala!
The remake of Hero has Sunil Shetty's daughter Athiya and Aditya Pancholi's son Sooraj…
Yes, it's a very good thing. My friend Sunil Shetty's daughter is making her film debut with the Hero remake. When I started modelling, Sunil followed; and later in acting also. So it feels nice that Athiya is doing the film I started my career with. It's superb!
Tiger was supposed to do the Hero remake…
Yes, he was considered earlier, and it was discussed, but he felt there would be inevitable comparisons between him and me. So he tried to avoid that.
Is there any bad blood between you and Subhash Ghai?
Abbe, kya baat kar raha hai… paagal kutte ne kaata hai, kya? (laughs loudly)
We loved your performance in Parinda and we hear Vidhu Vinod Chopra had a tough time convincing you to do the role; he even made you write 'I am a good actor' many times over to build your confidence, we are told. Did that really happen?
Firstly, I didn't know who Vidhu Vinod Chopra was. Anil Kapoor brought the role in Parinda to me. He asked me to meet Vinod. When I asked Anil why Vinod wanted me to do it, he said 'It's my big brother's role and you have to do it'. He made me listen to the Tumse milke song. I liked it and we met Vidhu. He narrated the script and I was thoroughly impressed. I did the film and got the award too. After that, Anil complained – Kya yaar, maine achcha kaam kiya aur tu award leke gaya! (laughs) He thought, ek tapori ko bade bhai ke role mein le lo, aur main usko outshine karke role kha lunga! (laughs)
What do you think of his Hollywood success?
Fantastic! He has opened the door for all of us. Koi bada role milega toh jaunga; tapori milega to nahi karunga (laughs). Apna loss nahin, unka loss hai, mere jaisa kahaan milega Hollywood walon ko!
You're one of the most rooted actors in Bollywood. How has that worked in your favour? Have people taken undue advantage of your good nature?
If my association benefits people, I'm happy. It doesn't really matter if someone brushes across you and gets your colour; you lose a little and they gain a little. So tension lene ka hi nahi… na dene ka.
Has Jackie Shroff changed much since the days he drove a red sports car up and down Malabar Hill?
No – same boots, white shirt and bell bottom jeans, and same heart. Label thoda badal gaya hai.
Do you feel like writing your memories and experiences in an autobiography?
Sometimes I feel there are so many incidents and memories, aise hi bol deta hoon. My friends know so much about me.
Thirty long years in the industry – you're a style icon for our generation and many to come. What's your style mantra?
Clean nails and clean socks!
Who is the current style icon?
Danny Denzongpa.
Danny doesn't do films now…
That's style! He's the style guru. He does films when he wants to do. I'm sure there must be ten scripts lying at his house right now. If he feels like doing a film, he will. He's absolutely regal and royal. He's manjha hua aadmi, pahocha hua toh main hoon! (laughs)
How do you select films?
Friendship – like how you invited me. I felt good, so I came here. Some people come and request me to work with them, saying 'Meri film kar do… meri life ban jayegi'. I tell them, 'Bana… baad mein dono ka naam kharab hoga toh bolna mat'. Jokes aside, if I get good roles like Aaranyakandam or Aurangzeb, or good banners, or good filmmaker friends, I do it. I don't think much.
Looking back at your journey, what are the high and low points – things that you could've changed?
Raat gayi, baat gayi. Humpty Dumpty sat on a wall… What's gone is gone. I lost my parents, I lost my brother. I can't get them back. What's more down than that? That has been my lowest point. Nostalgia can kill and you can suffer. When you reminisce, you cry. Aage ki soch, bhidu. Don't burn yourself out so fast! I will give this advice to everybody belonging to Bollywood, or even otherwise. There's time. Ek hi scene mein sochega Oscar maar lu toh, that's wrong!
What do you think of Bollywood camps – which do you belong to?
For me, it's good that I don't belong to any camp. All are my friends. Nobody was willing to do Chunni babu's role in Devdas because of the fear of being overshadowed by Shahrukh Khan. Finally, it came to me. I don't think much about my character's screen time. I see the weight. When you don't have any camps, it's nicer. Everyone looks at you and feels ki yeh apna hi aadmi hai.
Who's your best friend in Bollywood?
Danny, Dimple Kapadia, Amrita Singh.
You're one of the most handsome and appealing heroes…
(Interrupts). Jab bhi kaam karta hoon, todke rakh deta hoon.
Any film you wish you had done?
Mughal E Azam.
What is your dream role?
Salim
Who would you want to play Anarkali?
Madhuri Dixit. Aur kaun?
Are you in touch with Meenakshi Sheshadri?
Yeah, I heard she wanted to direct me.
Signing of, Jackie emotionally said: It was a pleasure talking to you all. I haven't changed a bit. I'm still the same Teen Batti naka guy. I share the same love and friendship of people. And from today onwards, you all have become my friends.
Dost ho to aise!