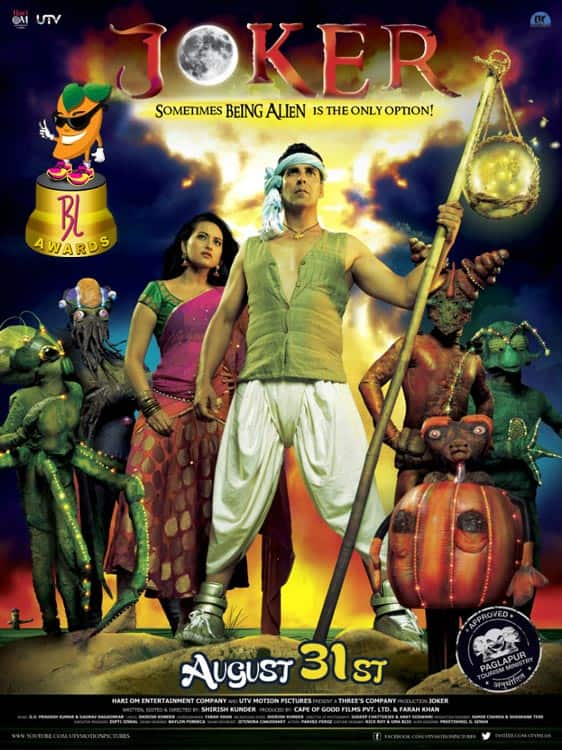 Shirish Kunder's Joker starring Akshay Kumar and Sonakshi Sinha emerges as the reader's choice for the film that ate up precious time!
Okay folks, the votes are in. And just like we guessed, the movie that y'all thought was the biggest disaster you have ever come across in the whole of 2012 is none other than the Akshay Kumar and Sonakshi Sinha starrer Joker! Crafted clumsily, with a lazy vision and a hackneyed story presented in an even clumsier package, the movie was such a dud that it just had to win hands down! With a total of 34 percent votes, it came in as the clear winner of the Biggest Disaster of the Year award.
A close second was Kunal Kohli's Teri Meri Kahaani starring Shahid Kapoor and Priyanka Chopra, with 20 percent votes, while in third position is the Rani Mukerji-Prithviraj starrer Aiyyaa with 13 percent of the votes. Madhur Bhandar's 'masterpiece' Heroine came in at a less shameful 4th, getting 8 percent of the votes, a fate it shared with Abbas-Mustan's Players. And in last place, was Karisma Kapoor's 'comeback' film Dangerous Ishq, which definitely surprised us with its decent standing on the charts of the movies that were the biggest Bollywood disasters of 2012!