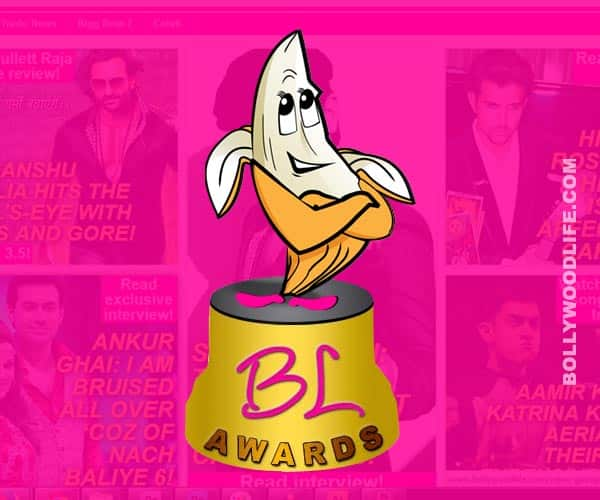 As we inch closer to that special time when the stars vie for the big bad awards in Bollywood, we remind our loyal readers just what the BL awards mania is all about…
Just as in the past two years, in 2013 too BollywoodLife will celebrate the madness and the drama on the big screen. And this time, we stretch our masti to cover the small screen as well. Generally, any awards in celebrity-ville mean red carpet hoopla, the glamour of the arclights, superstars strutting their stuff dressed to the nines, oops moments and a few tears, but the BollywoodLife Awards, as you all know, are given for achievements that are…errr…rather hatke. Our claws are sharpened, our horns are out and our tongues are firmly in our cheeks, of course!
From disastrous dressing sense to scandalous bedroom scenes and from the best dare bare acts to the botoxed beauties of television, we have it all on our list this year. While most of the categories at any other entertainment events include the usual suspects, we at BollywoodLife look at the nominations – and the nominees – through our quirky and often out-of-focus lenses. Take a look at the different categories that you can vote for in the BollywoodLife 2013 Awards.
Bollywood's forgotten hero
Guess who
Holiday of the year
Love story of the year
Auntiji of the year
The bare dare
Best in bed
The peek-a-boo
The blue bird
The rotlu beta
TV's ageless beauties
Zero chemistry on TV soaps
What will you vote for?