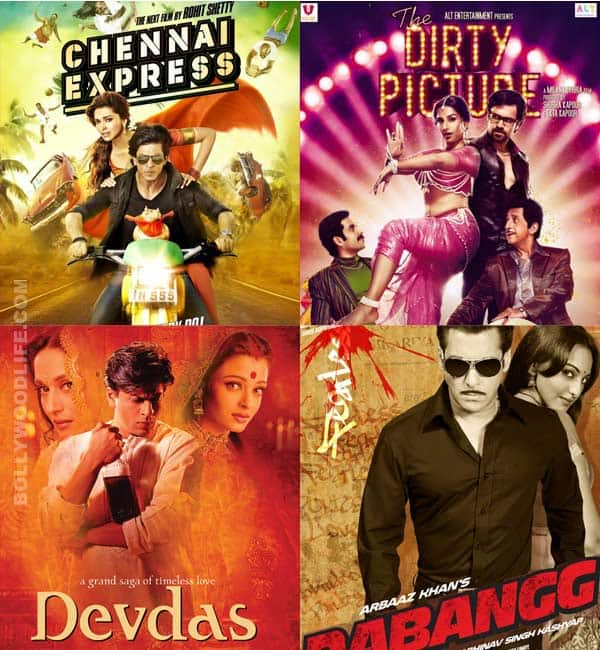 Along with dreamy and glamorous dance sequences, Bollywood is also famous for its archives comprising of iconic dialogues. Often we reminisce about evergreen words spoken by legendary actors of yesteryear such as 'Mere paas maa hai' by Shashi Kapoor or 'Yeh haath mujhe dede thakur' by Amjad Khan
While these examples remain unmatched, the new age of Bollywood heroes like Salman Khan, Shahrukh Khan and Aamir Khan have also given us a few memorable one liners. Here's a look at 10 most popular dialogues from Bollywood films since 2000.
 Aaj pooja, kal koi dooja- Dil Chahta Hai
This hilarious line spoken by the Satyamev Jayate star Aamir Khan in Dil Chahta Hai, became one of the most popular amongst the young generation. Farhan Akhtar's debut creation, Dil Chahta Hai is considered the pioneer of establishing the concept of youth based films in the Indian cinema.
 Tension lene ka nahin dene ka- Munna Bhai M.B.B.S
It surely must be a task to make people love you, when you are a dangerous Don and yet Sanjay Dutt managed to do just that with his role as Munna in Munna Bhai M.B.B.S. Dialogue jadu ji jhappi became a part of the common man's lingo.
 Sikhni hoon mein bhatinda ki – Jab We Met
She came, she acted, and she conquered. Making her mark in Bollywood through Jab We Met as the peppy and quirky Geet, Kareena Kapoor is fondly remembered for this dialogue in the film. But she also had a few others that could join this list from the same film.
 Kaun baat karta hai re aise?-Rang De Basanti
Inspiring people to fight for change, Rang De Basanti by director Rakeysh Omprakash Mehra remains as one of the most powerful films in the new age cinema. A perfect balance of patriotism and humor, this movie tickles one's funny bone especially with dialogues like Kaun baat karta hai aise, spoken by Siddharth in a scene showing him reading Bhagat Singh's letter.
Har ek team mein sirf ek hi gunda hota hai, aur is team ka gunda mein hoon- Chak De India
Shahrukh Khan clearly establishes that one can't mess with him while saying this dialogue in Chak De India. A film that took the entire county by a storm, this legendary dialogue from an inspiring story, is still embedded in the minds of many. Not to forget the inspirational 70 minute speech.
Tumhara ishq ishq…aur humara ishq sex? – Ishqiya
Vishal Bhardwaj has never flinched when it comes to being bold. This dialogue by Arshad Warsi from Ishqiya made the censor boards unhappy and yet remains as one of the most popular ones from the Bhardwaj franchise.
Ek chutki sindoor ki keemat tum kya jano Ramesh babu?-Om Shanti Om
Making her debut in Om Shanti Om, Deepika Padukone has come a long way and how. This dialogue by the dream girl Shanti Priya, became an instant hit primarily because it brought forth the typical essence of drama which Bollywood essentially is all about.
Kahaan se kharidi aisi bakwaas dictionary? – Chennai Express
From elaborate action sequences, to the latkas and jhatkas in One,Two,Three, Four to the swag in Lungi Dance to Deepika Padukone's adorable Tamilian accent, Rohit Shetty's Chennai Express surely made a mark in the industry as one of his most entertaining ventures yet. This dialogue by Deepika Padukone, became an instant hit and brought out the hidden versatility of the Om Shanti Om star.
Filmein sirf teen cheezo ke wajah se chalti hai … entertainment, entertainment, entertainment … aur main, entertainment hoon- The Dirty Picture
Bold, beautiful and downright dirty…the gutsy Vidya Balan with her stint in The Dirty Picture proved that she is here to stay. With this popular dialogue from the film, Balan can be considered as a perfect source of entertainment, no doubt.
Thappad se darr nahin lagta sahab, pyaar se lagta hai- Dabangg
A hot and desi Sonakshi Sinha while saying these words in Dabangg, melted hearts of all the rickshawwalas and was soon identified with this signature dialogue of hers apart from her mast mast naina of course!