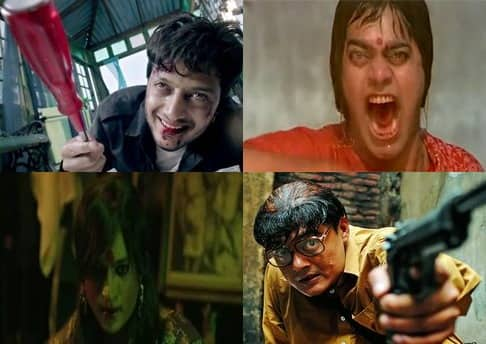 In an industry of serial kissers, Bollywoodlife handpicks a bunch of serial killers who have given us goosebumps over the years
Films of thriller genre are a rarity in Indian cinema. While the world cinema is filled with noiristic serial killers, our very own remorseless maniacs have been lost in the maze of rom-coms, sex comedies and melodramas. Last week's release Ek Villain has triggered our search for the best cold blooded killers of  Bollywood.
Spoiler alert: If you haven't seen Ram Gopal Varma's Kaun, please refrain from reading this article.
So here you go! Bollywoodlife brings you 5 best serial killers of Hindi cinema:
5. Riteish Deshmukh  
Riteish Deshmukh's career redeeming role of a henpecked serial killer in Mohit Suri's Ek Villain is fifth in our list. The actor known for his buffoonery in ensemble comedy flicks shocked the audience with a restrained performance of cold blooded killer who knocks of annoying women reminding him of his lovely wife. Riteish emotes spectacularly with his eyes, stealing the show from  the rest. The only flaw in his performance was he didn't look menacing enough. But the fault lies with the writer and director for not tapping the actor's talent to fullest. We better shut up to avoid facing that dreaded screw driver. Wink!
4. Saswata Chatterjee
Vidya Balan's Kahaani was one  heck of a edge of the seat thriller filled with memorable characters. One such character of Bob Biswas, a contract serial killer in disguise of LIC agent, ranks fourth in our list. Played brilliantly by Saswata Chatterjee, Bob Biswas as a baby faced killer who goes about killing people as if he was strolling in a park, is a treat to watch. Bob and his peaceful smile with menace written all over it, can give any firangi serial killer a run for his money.
3. Prashant Narayanan       
Prashant Narayanan's terrifying portrayal of eunuch psycho killer gave many a chills down the spine of audience. Again directed by Mohit Suri, Murder 2 saw Prashant's Dheeraj Pandey on a killing spree taking lives of hookers. His role was  probably the only cold blooded psychopath we have had in last few years. His maniacal antics will be bench mark for the psycho killers to come in the future. We meant in films. Wink!
2. Ashutosh Rana
Does the name ring a bell? Jog your memory a little and you would know we are talking about Ashutosh Rana's stand out performance of blood sacrificing serial killer in Sangharsh. The way he used to give bali of innocent children at the shrine of Goddess has terrorised many a children who are now adults.  The bald Lajja Shankar's love for immortality  and his blood curling yell still stays with us even after 15 years. We bet if you close your eyes and strain your ears, you can still hear Ashutosh Rana's menacing scream.
1. Urmila Matondkar 
And the best insane serial killer award goes to Urmila Matondkar. Do we even have to name the movie? That's right. RGV's 1999 thriller Kaun spooked many a people and Urmila Matondkar's nerve wracking portrayal of mentally unstable serial killer scared the day lights out of the audience. With a serial killer in lose and a lone woman  in a big house with two strangers at her door steps, Ram Gopal Varma told a shocking tale, terrifying us folks to the very core. Urmila played her part with such malice, giving birth to the era of substantial roles to women in Bollywood.