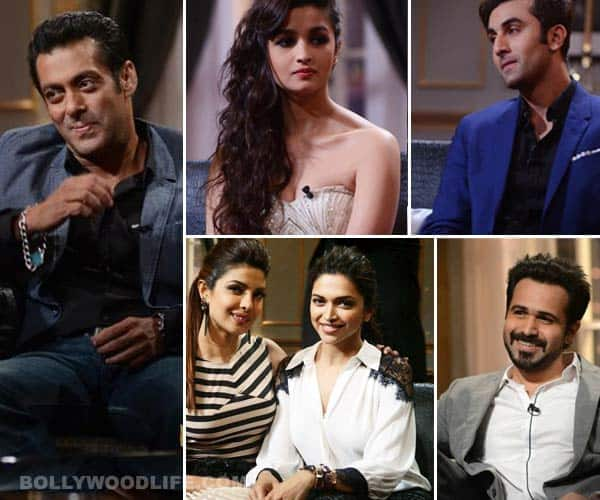 Bollywood's most guarded secrets are out! And what's best is, it's coming straight from the horse's mouth. Read on…
That Salman Khan is a virgin was declared by the star on Karan Johar's hit show Koffee With Karan 4. This chat show debut made headlines and garnered a lot of TRPs for KJo, but did you know Sallu loathed his stint on KWK 4. We ain't saying so, the Kick star revealed this in a recent video of the same show. It wasn't just the Dabangg Khan, while Bollywood A-listers were politically correct and well prepared to answer Karan's intrusive questions this time around it was off the couch that they revealed some lesser known facts about themselves. Here's a dekho at Deepika Padukone, Ranbir Kapoor, Alia Bhatt's candid revelations of camera… All these stars shared a piece of information that we didn't see when the show went on air
Salman Khan: After a dhamaakedaar interview when SK was asked to share a little known fact about himself a annoyed looking Sallu miyaan revealed that he just didn't like what he did. Does that mean that Jai Ho star didn't enjoy his debut on Karan's show? Doesn't matter, we loved to watch him in that couch. Ouch! But that must have hurt our sensitive filmmaker turned chart show host, na?
Deepika Padukone: Did you know she is borderline OCD (Obsessive–compulsive disorder). The actor is a cleanliness freak and loves to arrange things in an order in her space. Was that also a reason that RK Jr moved on?
Ranbir Kapoor: "No matter what the world says, I truly, madly, deeply love my film Besharam!" Clearly Ranboo isn't in sync with his father Rishi Kapoor's thoughts about this film.
Kareena Kapoor Khan: "My only confession is that I bite my nails and I've been doing that since I was like six-years-old. Nothing has changed for 25 years!"
Priyanka Chopra: The Exotic babe can never endorse PETA, this actor hates vegetables. In fact she doesn't eat vegetables. We wonder if that was one reason that she and ex-beau Shahid Kapoor had differences about. Considering that Sasha is a staunch vegetarian, meat must have been the bone of contention in this relationship.
Alia Bhatt: I'm afraid of the dark, so I sleep with my light on. I'm a nervous traveler so I don't like flying!
Aamir Khan: "I've begun smoking again." This was during Dhoom:3, we are a film and role like that must have stressed our Mr Perfectionist considering that it isn't his career best performance.
Kiran Rao: "I'm not very funny!" We totally got that with the kind of films Ms Rao makes and endorses.
Emraan Hashmi: "I'm quite a narcissist. So, I love looking into mirrors, into any reflection that I get – car windows any place where I can get a reflection of myself I'm always setting my hair." Emmi must be giving his heroines some complex, na BollywoodLifers?
Sidharth Malhotra: "I watch Master Chef, cookery shows." Does that mean that this dishy actor has some great culinary skills too?
Here take a look at B-town go on a confession spree…