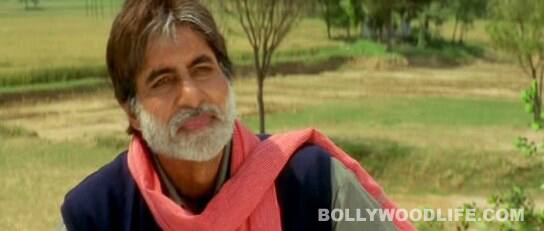 Amitabh Bachchan, Akshay Kumar, Sonam Kapoor, Lara Dutta, Raveena Tandon and Gul Panag are in festive mood
Bollywood celebrities like Amitabh Bachchan, Akshay Kumar, Sonam Kapoor, Lara Dutta, Raveena Tandon and Gul Panag among others are greeting their fans on the occasion of the Punjabi festival of Lohri through the social networking site Twitter. Everyone is talking about either how they celebrated the festival in their childhoood, or about the traditional sweets of rewadi and gajak. Big B remembers his mother Teji Bachchan, who was a Punjabi. Click on to read the tweets.
Amitabh Bachchan: LOHRI diyaan vadhayiyaan !! Momphali, gur, sarson da saag te makke di roti .. lai lava ag vich .. such beautiful memories .. And my Mother telling us tales of her early years when they went from house to house, seeking donations, singing : 'lohri da takka de, rab tennu bachcha de ..' such joy in those early years of innocence ..
Akshay Kumar: Happy Lohri ji! Being Punjabi, I wish I was in Delhi to celebrate this festival. Maybe next time. Mere walo rewadiyan khaan lena tussi (Please eat my share of rewris).
Sonam Kapoor: RT @suhelseth: Happy Lohri! At least today let's make #BeingPunju trend…
Uday Chopra: Happy Lohri to all the Punjabis and to all the non Punjabis…well! Na na na na na na. Lohri is a festival to show Punjabi superiority over others..its where a Punjabi gets his eating and drinking powers..ok fine I'm kidding!!! (In reply) it's like considered the last day of winter so farmers can start planting crops in time for harvest…it's a farmers festival.
Tusshar Kapoor: Happy Lohri to everyone!!! Here's wishing the entire world of Twitter good health, wealth and happiness.
Lara Dutta: Happy Lohri! Reminds me of childhood, with the bonfires and revdi and gajjak!
Raveena Tandon: Lohri ki lakh lakh vadhaiyan!!
Gul Panag: Happy Lohri!
Sophie Choudry: Lohri di lakh lakh vadiyan! Me in Pune for a gig! Been ages since I've been here! Should be a good if not great night!
Farhan Akhtar: Wish you all a happy Lohri.
Aadesh Shrivastava: Happy Lohri to all of you, my Punjabi friends. Miss rewadi.
Divya Dutta: De maayi Lohri, jeeve teri jodi! Happy Lohri people, its rewri gacchhak time!
Kamaal R Khan: Happy Lohri to everyone of you whoever celebrates it.