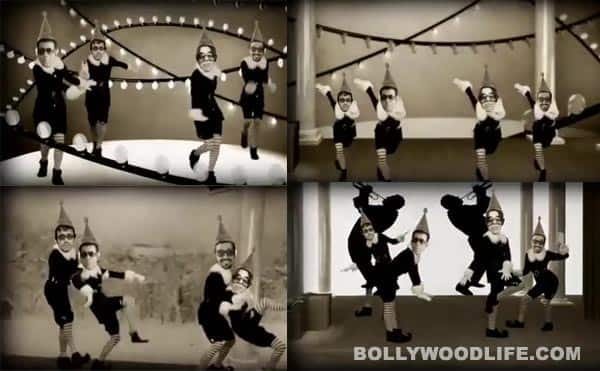 After receiving critical acclaim for their collaborative endeavour Bombay Talkies, the four directors – more precisely, their lookalike elves – do a funny dance to celebrate. Take a look!
We might have loved Bombay Talkies – a one of its kind cinematic creation that brought four well known directors under one umbrella to celebrate 100 years of Indian cinema. But the fact of the matter is that in spite of being a critically acclaimed film Bombay Talkies did not do too well, commercially speaking. Perhaps that's the reason why the movie's four intelligent directors – Karan Johar, Anurag Kashyap, Zoya Akhtar and Dibakar Banerjee – decided to dance all the way to the bank on their own. Or so you would think…
We were trolling the Net when we came across a funny video in which the makers are seen in their funny avatars doing a hilarious jig. The masked dancers shake a leg to a fun tune in this hilarious dance piece. While KJo and Zoya look their sophisticated selves, their dance moves are in complete contrast to their stylish personae. Dibakar and Anurag too look equally quirky and comical.
For those who branded Bombay Talkies an 'intelligent' film (read: boring) with very little spice, here's a generous dose of entertainment that will make you giggle!
[jwplayer mediaid="226489″]