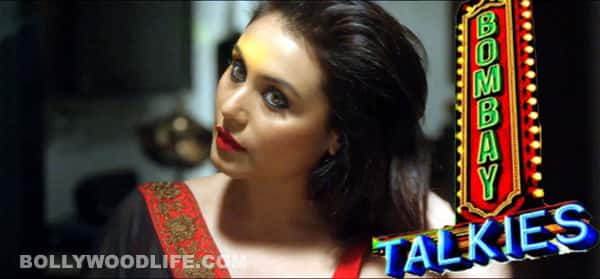 Music: Amit Trivedi
Lyrics: Amitabh Bhattacharya
Singers: Mohit Chauhan, Kavita Seth, Amit Trivedi, Javed Bashir, Richa Sharma and various artistes
Bombay Talkies celebrates 100 years of cinema and speaks of the magic of Bollywood. You would expect the music to befit such a tribute. Especially because a versatile music director like Amit Trivedi is at the helm of the soundtrack.
First up is Akkad bakkad, sung by Mohit Chauhan. It talks about the influence that cinema has on every Indian, and how the industry has turned 100 but hasn't grown old. It's a semi-folk song – shehnai, guitar, violin and tabla – with a simple melody. It's a sweet and sincere tribute to Bollywood.
Murabba is driven by a violin harmony supported by beautiful poetry with lines like Sabar ki meethi chashni mein bhigoke waqt khada hai. Kavita Seth gets the chance to sing a slightly different number and she does a great job. Amit Trivedi's back-up vocals create a dreamy effect. It's in the zone of Amit Trivedi's Ek Main Aur Ekk Tu song Gubbare in its essence and spirit. There is also a version of Murabba sung by Javed Bashir – this one is faster and edgier. A complete contrast from the soothing take by Seth, this one is noisy and tries to do a bit too much. The Seth version is a lot more appealing.
Next is Bombay Talkies – a theme song. It talks about the dhishoom-dhishoom, superstars, the filmi music, colourful settings – all things associated with Indian cinema. The song also includes those famous words from Raj Kapoor 'Jeena yahaan marna yahaan, iske siva jaana kahaan'. This one's designed to be a folk song from the heartland of India. The melody sounds even better because of Javed Bashir and Richa Sharma's earthy voices.
That's not all! There is a more extravagant version of this song featuring Udit Narayan, Kavita Krishnamurthy, Shaan, Shreya Ghoshal, Sukhwinder Singh and Mohit Chauhan, which will soon be picturised with B-town's top stars. Trivedi incorporates well known numbers by the singers – Yeh ishq hai from Jab We Met, Papa kehte hain from Qayamat Se Qayamat Tak, Dhan ta dan from Kaminey and Sadda haq from Rockstar, along with others. In an attempt to fit all these melodies in, Trivedi creates a mish-mash of sounds that don't make for a great song. It will only be fun when watched as a video perhaps.
The last number on the soundtrack is Bachchan – what better tribute can anyone pay to the superstar? The lyrics go: Sitaron ki shaan hai jo, O Bachchan, cinema ka imaan hai jo, O Bachchan. The music arrangement has an Arabic touch, taking it into a different zone. But sadly, this song written in praise of Amitabh Bachchan is just about average. It is Big B's dialogues like Daddu tum and Mooche ho to nathulal jaisi ho that make it interesting.
The Bombay Talkies soundtrack is endearing because of the sincere and earthy tribute it pays to Indian cinema. But musically, it is one of Amit Trivedi's most average works. It is likely that the theme of Bombay Talkies might go on to become Bollywood's anthem – after all, there are not many songs made in honour of this industry.
Rating:
out of 5
Reviewed by Suparna Thombare
* Poor
** Average
*** Good
**** Very good
***** Excellent