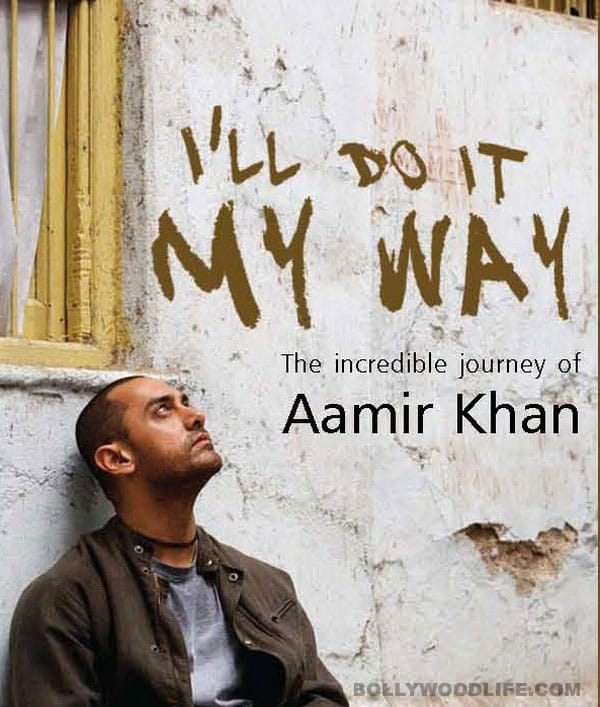 Christina Daniels' book is a collection of excerpts from Aamir Khan's interviews and quotes, and not a biography
His film 3 Idiots is the highest grosser ever in India, with over Rs 200 crore in box office collections. Add another Rs 100 crore if you count the overseas figures, and it's a record. It's also the second highest grossing Hindi film abroad (the highest being Shahrukh Khan's My Name is Khan). But Aamir Khan did not achieve this overnight. His debut Qayamat Se Qayamat Tak was a blockbuster, followed by a series of flops. The actor realised that "the intense fan following on the release of QSQT was for someone new rather than someone good".
A career spanning many ups and downs, failures and successes has led to the Aamir of today. Megastar, marketing maverick, sensitive director, shrewd producer, social activist, loving family man and great friend. All this was achieved with a great deal of attitude and is showcased in a book aptly titled I'll Do It My Way – The Incredible Journey of Aamir Khan by Christina Daniels. The book is a collection of excerpts from and analysis of quotes, anecdotes and experiences of Aamir and his colleagues, sourced from old magazines, newspapers, websites and television interviews. It's been broken down into chapters like A Star is Born, 'Break away' Cinema, Icon, Iconoclast, Cinema for Change and The Superstar.
So what's new? Not much for admirers who've been following the ace actor-director's career from its start. But for younger fans, the book will be an interesting read, not just for rare pictures and an insight into how AK chose his scripts, but also for his complex childhood (bully in school, timid at home) and his transformation from a shy guy and actor to the evolved and confident human being that he is today.
Daniels shares bites like how Aamir had his initial hands-on training as spot boy, assistant and production manager on his friend Aditya Bhattacharya's film Paranoia. He soon knew his calling and joined his uncle Nasir Hussain on Manzil Manzil as assistant and simultaneously acted in Ketan Mehta's Holi. He later starred in Aditya's National Award-winning film Raakh.
What was fascinating to read was that in a rare combined interview of Aamir and Shahrukh to Filmfare magazine in 1993, Shahrukh advised Aamir to continue on his pathbreaking trail. He said, "He's (Aamir) one of the finest actors we have, someone I expect to evolve like Amitabh Bachchan, Shashi Kapoor and Rishi Kapoor did… I know he has no limitations… Aamir, I feel you should start playing someone else besides Aamir Khan. You're good for another six-seven years and you'll be remembered for ten more for your performances."
It's been more years than SRK stated Aamir would last, and both superstars have in fact maintained their positions and achieved much more.
Speaking to Filmfare, again in 1993, Aamir predicted the likeability of Andaz Apna Apna even as he was shooting for the film. He said, "Both Salman and I have performed very well. We have distinctly different and well-balanced roles and it will be difficult to decide who is better." Showing no insecurity and a thorough understanding of the market he stated, "My fans will argue that I have overshadowed him while Salman loyalists will campaign for him, but in the end, I'm sure there will be no strong vote in favour of either one of us. The audience will like both of us and that should contribute to the success of the film." Andaz… was not a big success when it released, but is considered a cult comedy now.
Quotes by Aamir's various directors, producers and co-stars when interviewed by Daniels are fresh. Aditya Bhattacharya, Mansoor Khan, Indra Kumar, Mahesh Bhatt, Dharmesh Darshan, Rakeysh Omprakash Mehra, AR Murugadoss, Asin Thottumkal, Rajkumar Hirani et al speak about the man's genius and how his vision or his persona helped shape their films. The only person conspicuous by her absence is Aamir's QSQT co-star Juhi Chawla. Both stars acted in several movies together, but were always known to share a love-hate relationship. All that can be forgotten now, with Juhi's recent appearance at the 25th anniversary celebration of the iconic celluloid love story and her expressed desire to star in the sequel.
All in all, I'll Do It My Way is exhaustive, but unlike what Aamir says cinema should be – entertaining. The book reads more like a documentary than a commercially successful Aamir Khan film. And so it might get a tad boring for readers. What could've made it better? One can't say, as the author maintains that it's not a biography. Neither is it only in praise of the actor. Fair enough. You will like it if you don't expect too much from it.
I'll Do It My Way – The Incredible Journey of Aamir Khan by Christina Daniels | Price: Rs 495/- | Spotlight, 2012
Rating:
out of 5
Reviewed by Shweta Parande
* Poor
** Average
*** Good
**** Very good
***** Excellent