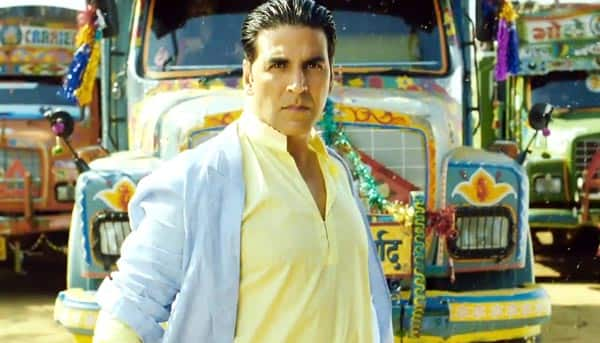 The ultimate Khiladi of B-town carries the occasionally entertaining movie on his strong shoulders. Watch Boss if you must, only for Akki's histrionics, his spot-on comic timing and above all, his impossible-to-replicate action moves…
It is easy to guess from the promos that Akshay Kumar in and as Boss can do practically anything – from bludgeoning an army of thugs effortlessly to jumping off a two storey building like a seasoned Parkour expert (which he is in real life) and from balancing on a tilted SUV to inviting a Bollywood starlet to his private party only to leave her wanting for 'more'!
What you must know is that while doing these odd (aka: strange) jobs the action-hero does breaks into a sweat. And as the droplets of his labour stream down his sculpted face and land slow-mo on the barren ground under his feet – hold on to your thoughts – they actually sprout plants from nowhere!And the Khiladi proudly calls them 'power-plants' to declare the might of his blood and sweat. That's Boss for you! But there is a condition attached to watching this film: you are not allowed to use your brains beyond a point and ask what's wrong with the makers of this movie – after all, Boss is always right. Sadly, the film isn't.
It is astonishingly difficult to believe that after treating us to his ever-improving acting skills in movies like Hera Pheri, Khakee, Bhool Bhulaiyya, OMG! Oh My God and more recently, Special 26 Akki is still seduced, hopelessly and insanely, by any opportunity to show off his action chops, even if there is very little plot and no acting to be done. There's no denying that Kumar is a true entertainer and he delivers that in Anthony D'Souza's Boss. The 46-year-old superstar is the soul of the film, even if the shabbily written, insanely melodramatic and overly formulaic plot offers him little scope to show intelligence.
Boss is a mindless, illogical masala film that entertains in parts, especially in its goofy one-liners. But it is a cliched story, with the characters painted either black or white without a hint of grey. D'Souza tries too hard to make the drama emotional by hastily shoving in a couple of melodramatic sequences. On the plus side, this one gives Akshay a free hand to indulge in what he has been doing for close to two decades now – relentless maar dhaad with his trademark scornful smile, throughout the movie. Cheesy lines like 'Apun ko kya hai, apun ko to sirf paani nikalna hai' and 'Boss is always right' are repeated ad nauseum From 'jogging trucks' to 'bum mein bomb', the director pushes the comedy quotient to the limit, and you will giggle and cringe with disgust at the same time.
The plot (if any)
Danny Denzongpa (Big Boss) a transporter don takes a temperamental teenage lad Surya under his wing when the latter saves him from a murderous attack. The teenager has a dark history – he has acquired the bad reputation of bashing up people at the slightest provocation and killed his schoolmate. Surya's morally upright father (Mithun Chakraborty) disowns him. Fifteen years later the boy grows into the skull-crushing, bone-breaking mafioso who takes on contracts to kill people, though only the baddies.
Surya is the last man standing in the land of Kurukshetra and he can beat the guts off thousands of men with solid punches and high-flying kicks. Not too far away, in the city of Delhi, a young man Shiv (Shiv Pandit) falls in love with Ankita (Aditi Rao Hydari), the sister of a ruthlessly cynical cop (Ronit Roy). Boss is contracted to kill Shiv, but learns that the lad is his long-lost younger brother. What follows is a zany action-fest that goes on and on until a high-blown action climax that will leave you exhausted and dizzy.
Performances
Akshay Kumar's antics and action prowess save the movie. Ronit Roy's ruthlessly demonic character seems an extended version of the mean father he played in Vikramaditya Motwane's critically acclaimed Udaan – Ronit has made a sincere attempt to do justice to the role, but the police uniform and the gun toting cop-act fail to mask the hangover of his previous award-winning performance. Mithun Chakraborty's morally upright father fails to move you. In fact, his talks on family values and moral upbringing become too much of bhaashan. Shiv Pandit doesn't get much to do as the young brother of Akki, while Aditi Rao Hydari merely looks pretty in this male-dominated landscape.
All in all, Boss is a cliched action comedy that entertains in parts as Akshay Kumar tries to steer through the muddle with his star skill!
Rating:
out of 5
Reviewed by Prathamesh Jadhav
* Poor
** Average
*** Good
**** Very good
***** Excellent