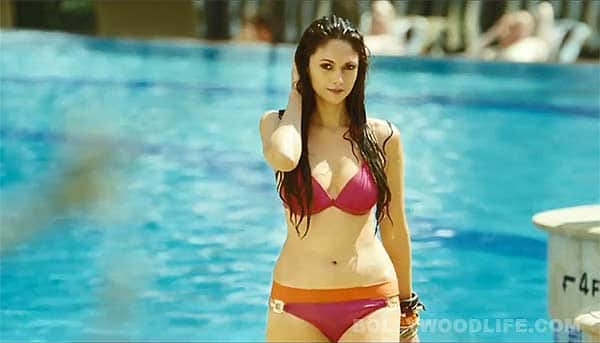 Though the Murder 3 babe ups the glamour quotient, Nikhil D'Souza's uninspiring vocals ruin the charm of the seductive 1986 Sridevi-Feroz Khan song. Absolutely blah!
As if film remakes weren't enough, music composers have started recreating old songs. There was Tayyab Ali (Once Upon Ay Time In Mumbai Dobaara) and Bachna ae haseeno (Bachna Ae Haseeno) both sadly tampering with the original. The latest 'deformed' version, Har kisi ko nahin milta from Akshay Kumar's new action comedy Boss is a testament to how composers take undue advantage of creative license, rejigging original cult songs in the name of experimentation!
Looks like the makers have just played with the original for the heck of it, perhaps to pull in more eyeballs. Silly! But we wonder why on earth the composer took the risk of meddling with the romantic number. Nikhil D'Souza sounds disinterested, just like the actors Aditi Rao Hydari in a red bikini and newbie Shiv Pandit. In fact, we wonder if they ever took a look at the 1986 Jaanbaaz song, which had Sridevi and Feroz Khan doing their thing with elan. We are sure that after watching this song, you'll want to watch that old version instead.But just for fun, take a look at this 'new' song and tell us what you think!