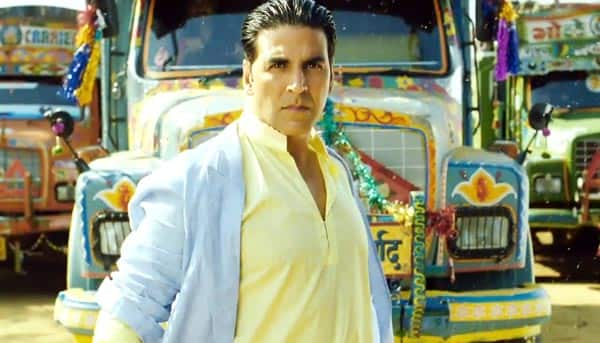 He delivers a solid punch that sets a hundred men fly in the air. Now, haven't we seen the Khiladi Kumar doing that one too many often? Going by the trailer of this upcoming action venture, we think Akshay is not willing to take his brand beyond the mindless action that he likes to indulge in royally
Akshay Kumar is B-town's real action star. We have been watching him punching thugs and goons in the guts for close to two decades now. Akki has also given a generous dose of action in his recent movies such as Rowdy Rathore and Khiladi 786. While the former was a big hit, the latter sunk without leaving a trace. And now Ashwin Varde's forthcoming production doesn't look any different from the mindless maar-dhaad he loves to indulge in almost shamelessly.
In the trailer we see Akshay playing the Boss who is here to kill the baddie cop played by Ronit Roy. The trailer looks a heavy combination of Dabanng, Singham, Rowdy Rathore and Khiladi 786. " Humein kya hain, humein toh sirf paani nikalana hain," says our macho star when a man starts urinating after watching the might of Boss.
In another instance, a goonda asks Akki why is he standing to the right side of the frame, hesitating to come to the centre, Akshay replies with his trademark chauvinism " Kyunki Boss is always right." Now haven't we seen Akki doing this a zillion times before-employing his action skills to best effect and mouthing those cheesy one liners such as these? The only plus we can draw out of this trailer is that Akki is looking much younger and fitter in every frame he appears in. We really wish if he could entertain us with some substantial plot!
Now what boggles our mind further is that in spite of playing hatke roles in films such as Hera Pheri, OMG Oh My God! and more recently in Special 26, Akki chooses to resort to the traditional route of mindless action and brainless comedy. Watch this trailer of Anthony D'Souza's Boss and tell us if you really are looking forward to watch the superstar repeating himself to bore us out of our skull!
[jwplayer mediaid="259612″]