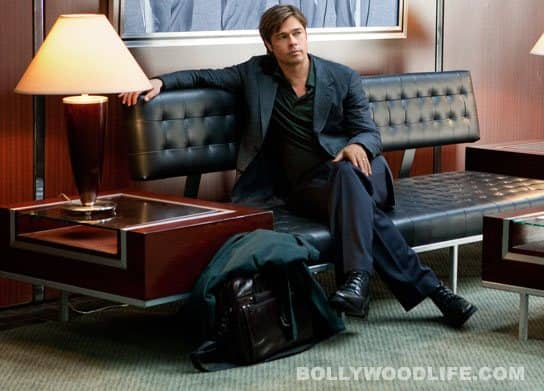 The MAMI Film Festival will open with the Hollywood actor's latest film, Moneyball
So the 13th annual Mumbai film festival (October 13-20) will open with Moneyball starring Brad Pitt and close with Dolphin Tale, starring Morgan Freeman. The move shows festival backer Reliance's keen desire to get further into bed with Hollywood, though how a baseball themed film like Moneyball will fare with cricket-obsessed Indian delegates who are clueless (like most of the world) about the American sport is anybody's guess. Cineswami's guess is that they'll hang around the opening speeches hoping that Pitt makes an appearance and then sneak off to the bar at the opening night gala party then minutes into the film.
Thanks to its deep pockets, Reliance threw a lifeline worth hundreds of millions of dollars to rescue Steven Spielberg's beleaguered Dreamworks studio and also invested in several famous actors' production companies including Pitt, who'll surely show up for someone who's thrown millions his way, Julia Roberts and Jim Carrey amongst others. After all, Hollywood is where the real money is with films having the potential to gross billions of dollars thanks to their saturation reach. In contrast, Bollywood's highest grossing film 3 Idiots has collected just $100 million, which is high by Indian standards but average by global bellwethers. Reliance's own Bodyguard will in most likelihood have a final collection of some $32 million. But Reliance's recent forays into Hollywood production have not been that profitable. The recent Cowboys & Aliens was made for $163 million and has just about managed to scrape that back at the global box office, let alone make a profit.
Meanwhile, the Mumbai fest is a great opportunity to watch around 200 films from around the world before they release in the cinemas or get pirated. Thanks to Reliance, well known global filmmakers like Hugh Hudson (Chariots of Fire) will visit Mumbai. Hudson chairs the festival jury and Mumbaikars will get an opportunity to catch his part works in a retrospective. Other jury members include Roger Spottiswoode (Tomorrow Never Dies), Jerzy Skolimowski (Essential Killing), Na Hong-Jin (The Chaser) and our own Kiran Rao, Nishikant Kamat, Sushasini Mulay, Renuka Shahane, Vikramaditya Motwane, Mukesh Bhatt and the legendary Basu Chatterjee.
Cineswami is planning to gift a DVD of Murder 2 (produced by Mukesh Bhatt) to Na Hong-Jin and let him discover for himself the similarities with The Chaser. Then perhaps the Korean director and the Indian producer can have a nice little chat about copyright. Perhaps Cineswami should also gift a DVD of Bhatt's Awarapan to Na Hong-Jin so that he can take it back to Korea and show it to Kim Jee-Woon, the director of its original A Bittersweet Life. Should be an interesting few days for the Bhatt camp in that case where copyright is clearly interpreted as the right to copy.
The festival will also pay tribute to the dear departed trio – auteur Mani Kaul, the iconic Shammi Kapoor and India's lost jewel – Qatari citizen Maqbool Fida Husain. Our beloved Gulzar will be presented with a lifetime achievement award.
ALSO READ: Aamir Khan's role model is Hollywood star Brad Pitt!