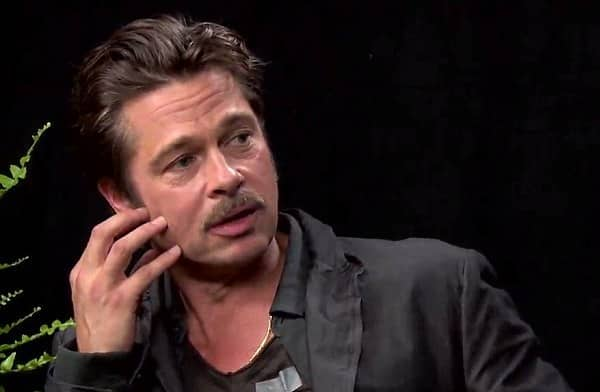 Wow! This is something shocking to hear because its so unlike Brad, or is it just like him? Things are turning quite shocking and nasty in this Brangelina split as now new kinda accusations have been flying in the air. On Monday i.e. 19th September, the couple announced their split. Well, to be fair, it was Angelina Jolie who filed for the divorce. However, the prime reason for which Jolie took such a drastic step was because she was unhappy with Brad's way of parenting. While she has kept the reason irreconcilable differences, a new allegation claims that Pitt abused one of the kids that triggered the divorce.
A report on TMZ has stated that an incident that occured last Wednesday, resulted in the instant decision for Angie to split from her husband of two years. Sources familiar with the situation told the leading portal that Brangelina and their kids were on a flight last Wednesday i..e 14th September, when he allegedly got wasted on the private jet. That led to him going wild, screaming and getting physical with the kids. The report further added that a lot of people at the airport witnessed Pitt's rants as he ceased to stop. The jet they were on, landed at an airport on 8 pm where a lot of people saw the Allied actor go on a crazy rant and even tried leaving in one of the fuel trucks. (Also Read: Did Angelina Jolie keep Brad Pitt in the DARK about her divorce plans?)
This however, soon resulted in someone either on the plane or the tarmac anonymously reporting the incident to the L.A. County Dept. of Children and Family Services. The former couple have already been interviewed by the DCFS and they now plan to interview the kids as well. Investigation on the same is on going. The LAPD has the case now, which is routine when anyone reports child abuse. The specifics of the alleged abuse is still unknown except that it was supposedly both verbal and physical. It was further mentioned that this incident triggered Jolie to separate from Brad the next day. Sources have already confirmed that his parenting was what bothered her the most and she doesn't wish to have joint physical custody of their six kids. (Also Read: Jennifer Aniston's BFF calls Angelina Jolie a f*cking lunatic – watch video)
A source from Brad Pitt's side also told the leading entertainment portal, "He takes the matter very seriously and says he did not commit any abuse of his children," adding, "It's unfortunate that people involved are continuing to present him in the worst possible light." So far all we know is that the actor was kept in the dark about the divorce plans that the Salt actress had. However, he wishes to fight for the physical custody of his kids. We do not know if the case take an ugly turn or not but it sure looks like this one's not gonna die down soon. We wonder what more could be coming up since already reports of Brad's intoxication practices have been noted as a bad influence on the kids. (Also Read: 400 million dollar divorce! Brad Pitt and Angelina Jolie's marriage comes to an END)
What's next that could happen now? Any thoughts? Tell us in the comments section below! And stay tuned to this space as we bring more deets on their divorce!
When Brad Pitt and Angelina Jolie made an appearance at WSJ Magazine Innovator Awards

Brangelina's romantic gaze caught everyone's attention instantly, and made the fans go 'aww'.

Image credit: Getty Images

When Angelina Jolie and Brad Pitt arrived holding hands at the screening of By The Sea

They looked so much in love when they arrived for the screening of By The Sea hand-in-hand.

Image credit: Getty Images

When Angelina Jolie and Brad Pitt shared a kiss on the red carpet at Cannes film festival

They set the red carpet on fire with that kiss at Cannes film festival, 2011.

Image credit: Getty Images

When Angelina Jolie and Brad Pitt couldn't keep off each other during a movie premiere in LA

The couple couldn't hold back from staying close to each other during By the Sea premiere in LA.

Image credit: Getty Images

When Angelina Jolie and Brad Pitt were had a PDA moment during Oscars

The duo took PDA to a different level during the 2009 Academy Awards.

Image credit: Getty Images

When Brad and Angelina looked insanely love-struck at a movie premiere

The couple gave us this ridiculously romantic moment during the premiere of Inglorious Bastards in 2009.

Image credit: Getty Images

When Brad Pitt and Angelina Jolie sneaked a kiss before a movie premiere

This was one of the most romantic sights for the fans during The Tourist premiere in 2010.

Image credit: Getty Images

When Angelina and Brad got intimate during the premiere of Salt

Brad was even spotted grabbing Angelina from her backside at the premiere.

Image credit: Getty Images

When Angelina Jolie couldn't stop looking at Brad Pitt

Brangelina became the centre of attraction at 2011 Golden Globes with their romantic gazes.

Image credit: Getty Images

When Brad Pitt and Angelina were seen flirting during a movie premiere

The couple was spotted sharing flirty moments during the Paris premiere of Megamind, and it was an 'awwdorable' moment.

Image credit: Getty Images