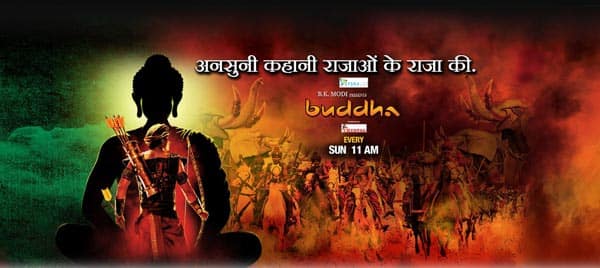 Prince Siddharth's story is being showcased for the first time on a such a grand scale on Indian television
It's for the first time that Buddha has been brought alive on the small-screen and naturally aroused a lot of curiosity.
What is Buddha about?
It's the story of a warrior-turned-philosopher and founder of Buddhism, Gautam Buddha. The serial starts with King Suddhodan returning to Kapilavastu, victorious from a war and greeted by his two wives, Mayadevi and Prajapati, who are sisters. Suddhodan, addressed as Dev by his wives is yearning for a son to take his legacy ahead.
Meanwhile Mangala, the wife of Dronadhan, Dev's younger brother is plotting for her son Devdutt to be heir to the king. However, the king performs a yagna to beget a son and soon Mayadevi is pregnant. Mangala tries her best to kill Mayadevi but is unsuccessful.
As is the custom, Mayadevi is on her way to her maternal home Devadaha to give birth to her child but delivers en route in Lumbini and names him Siddharth. His birth heralds celebrations and a seer Asita visits Shudodhan only to tell him that his son Siddharth will be a holy man renouncing the kingdom and worldly pleasures. This doesn't go down well with the king.
What works on the show?
The sets are grand but more importantly they look aesthetic.
What stands out are the costumes. Right from the jewellery to the apparel, everything about it looks authentic. Understated and elegant, there is a classy feel to it.
The special effects are good – the blooming of a flower, the white elephant that appears in Mayadevi's dream are computer graphics but blend nicely with live action.
Also, the incidents in the story may have occurred aeons ago, but they have a modern connect. For instance, a selfish woman wanting the best for her child at the cost of others, the selfless love between two sisters and so on. Remove the elaborate sets and costumes and you could be watching today's story. Also, the serial moves at a perfect pace allowing you to savour the story, which is good.
What's doesn't work?
With costume dramas becoming a weekday primetime affair, wish even Buddha was aired in the evening slot rather than only on Sunday mornings.
Performances
Sameer Dharmadhikari as Shuddhodan is first-rate. His angst at the lack of a heir, devotion towards his wife Mayadevi, happiness at the birth of his son and his transformation as a ruthless king who wants to keep Siddharth away from any kind of sorrow at the cost of others are essayed brilliantly. Gunjan Upari as Prajapati is vivacious and lively while Deepika Upadhyay as Mayadevi did her part well. Nigaar Khan's Mangala — the vamp, is slightly over-the-top. The last episode saw the introduction of 10-year-old Siddharth in the form of Vishal Bansal and he looked cute.
Way ahead
The makers should take advantage of the fact that there hasn't been anything on Buddha and make this show an all-rounded one with a story not just about his life as prince but touching on other aspects as well like his teachings in an interesting manner.
Buddha airs on Zee TV on Sunday at 11am.
Text and photo: DNA
Rating:
out of 5
Reviewed by Chaya Unnikrishnan, DNA
* Poor
** Average
*** Good
**** Very good
***** Excellent