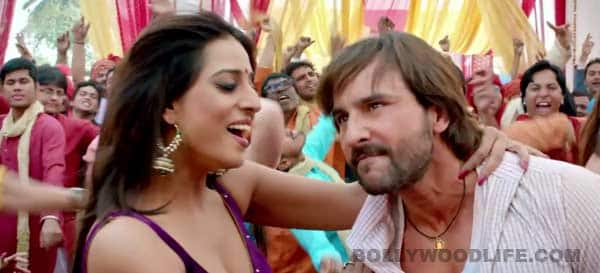 While Mahie has done quite a few item songs, this is probably one of the most mediocre ones…
The makers of Bullett Raja have failed miserably to make Don't touch my body featuring Mahie Gill a tadkedaar number. Though Ms Gill is a trained Kathak dancer and loves to groove, it doesn't come across in this song. Also, her expressions are a bit too much especially when she mouths 'my body'. Watch the video and you'll agree with us. But the fun part begins when Saif Ali Khan and Jimmy Shergill come into the picture. We all know Saifu and Jimmy aren't the best of dancers but they their own thing and it's hilarious. The purpose of item songs is to entertain and that's exactly what both the male actors do in Don't touch my body. Something that we expected from Mahie!
At the very beginning of the song, you get to see Chunky Pandey as well. And though he doesn't dance, his funny avatar will make you laugh. The lyrics of the song aren't catchy, the music is strictly okay and Mahie doesn't sizzle which makes this number very thanda for us.
If you miss this one, it wouldn't be a great loss. But if you're having a tough day, you can watch the video for fun.