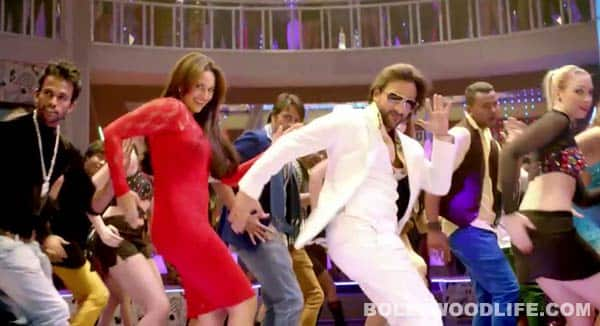 We aren't comparing the two actors but Ms Sinha believes her co-stars Saifu and Jimmy Shergill are certainly dancing better than her at least in this peppy disco number
Tamanche pe disco from Bullett Raja will get grooving from the word go. And that's what Sonakshi Sinha, Saif Ali Khan and Jimmy Shergill also do in the making video of the song. The trio had a blast while shooting for this RDB (Rhythm, Dhol and Bass) song. In the video, you get to see Sona and Nawab rehearsing their steps and at the same time having fun. We love watching the Dabangg babe dance coz she is one actor who thoroughly enjoys it to the core. But in the video, the Shotgun junior says her co-stars Saif and Jimmy together groove much better than her. While, we agree that Kareena Kapoor Khan's hubby dearest is a decent dancer, we aren't so impressed with Mr Shergill's dancing skills. Watch the video and you'll agree with us!
Sonakshi's thumkas and Saif's groovy avatar is to watch out for. If you loved the song then watch the making video and you'll know how this dhamaakedar song was made. Also, let us know who is a better dancer – Sona, Saif or Jimmy.